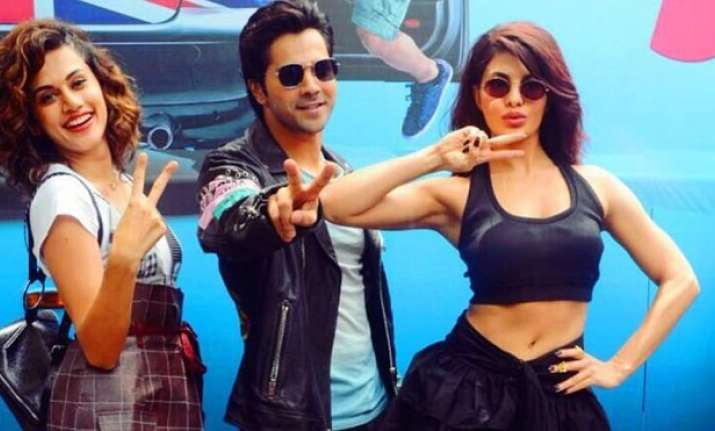 David Dhawan's popular Bollywood remake Judwaa 2 released on big screens on Friday. The film stars filmmaker's son Varun Dhawan along with Jacqueline Fernandez and Taapsee Pannu. The film has become so far successful in recreating the magic of 90's in 2017. It follows vaguely similar storyline as of Salman Khan-starrer 1997's Judwaa. Only for the fact that this time, actresses are not named as Mala and Rupa. Their names have been glamorized as Alishka and Samaira in the film. Varun Dhawan plays the role of the twin, Raja and Prem, who similar to the old movie, suffer from a bizarre condition called 'reflection personality'. When Raja is having a punch war with goons, Prem is forced to replicate his action as well. 
The film which released on Friday gathered masses due to the fact that still there are audience who wish to see the 90's magic on the screen. Salman Khan fans were enthusiastic to see his superhit film's rehashed version on silverscreen. And to our surprise, Varun Dhawan outlived Salman Khan in the Judwaa remake. He has given his one of the most stellar performances so far in Judwaa 2. If David Dhawan plans to continue the Judwaa franchise, Varun Dhawan is going to be a fix name in the star cast for sure, and we would be glad to see him again. 
Apart from Varun Dhawan's comic timing, the actresses are also seen in a totally different avatar. However, Jacqueline Fernandez has tried her hands on comedy, but her over-clingy girlfriend type guise was a fresh scene in Judwaa 2. Playing Samaira was altogether a different task for Taapsee Pannu. We've seen Pannu playing a strong-headed woman in her numerous films like Baby, Naam Shabana, Running Shaadi and Pink. It was like breaking the routine for the actress to play a comic role in the movie. Although, we expected a little extended role for the actresses as the film was at a point, becoming a complete Varun Dhawan affair. But after all, that's what Judwaa and Judwaa 2 was meant to be. 
The hilarious jokes in the movie are the one which you might have heard a hundred of times before. But Varun Dhawan's comic timing and Rajpal Yadav's slurred speech adds the comical element to the otherwise drab jokes. 
The musical tracks of the song will give an immediate sense of euphoria, which was spelt by Salman Khan and Karisma Kapoor in 1997's original release. The best part is that the original songs are not overworked in the film, leaving the spirit of the songs untouched. 
The fresh pairing of Varun Dhawan, Jacqueline Fernandez and Taapsee Pannu was a hit on the big screens, with their crackling chemistry leaving the viewers smitten. If you're seeking a weekend getaway with your friends and family, you don't need to go too far. Book your tickets for Judwaa 2 and enjoy the 'Tan Tana Tan Tan Tan Tara' fever. 
Produced by Sajid Nadiadwala, directed by David Dhawan, 'Judwaa 2">Judwaa 2' is presented by Fox Star Studios and Nadiadwala Grandson Entertainment.