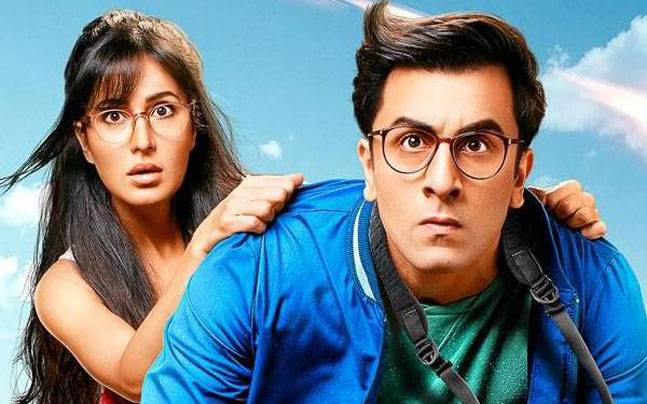 Actress Katrina Kaif, who is gearing up for the release of her upcoming film Jagga Jasoos alongside actor Ranbir Kapoor, has said that her equation with the actor during promotions of the film was misunderstood by people. The Barfi actor was criticised on social media for not letting the actress speak during an interview. Talking about that the gorgeous lady stated that it was just a little joking competition between them and people took it in a wrong way.
Katrina, however, said they were having "a little joking competition" but people were taking it the other way.
"In some places I've been reading, people are taking it in a wrong way, this joking competition between us. As long as we are enjoying it (it's fine) but I think some people are misunderstanding it," Katrina told reporters here.
Director Anurag Basu added, "The way he (Ranbir) is with us, he is the same person with everybody. He doesn't have a different face for media or others."
Ranbir turned producer with "Jagga Jasoos" and when asked whether Ranbir was a better producer or a friend, Katrina said, "As a producer I don't think he has done much in the film, honestly. Disney has done a fantastic job, they supported us all along the journey. Honestly, it's Dada's (Basu) creation, it's his baby..."
Ranbir then asked Katrina, "But give a reply to that question. Am I a better producer or a friend?"
"As a producer he is not at all (good). But Ranbir is mybest friend," Katrina said before giving a hi-five to the actor.
They were speaking at the trailer launch of the film, here.
Ranbir is confident about the film, which is hitting the screens after several delays, but said he did not really concern himself with the success or the failure of a movie.
"When I was doing Rocket Singh, I thought I made Munnabhai, but nobody saw the film. So as an actor, you realise when the audience watches a film, it's entirely different. I try to stay disconnected with the success and the failure of a film."
Katrina recalled watching Rocket Singh and calling up Ranbir right after.
"When I saw Rocket Singh, I called him up and said the film isn't going to work." To which Ranbir joked, "I thought 'isko kya pata hai.'"
Katrina added, "But I told him it's such a boring film, what's the meaning. He tried explaining what it is about and I was like I don't care. But yes, that's the truth. As an actor, you have to care about the process and not the outcome, as it's not in our hands."
Directed by Anurag Basu, Jagga Jasoos is slated to release on July 14.
(With PTI Inputs)
Read more
Jagga Jasoos trailer: Ranbir Kapoor, Katrina Kaif take you to an emotional, fun-filled ride
Ranbir Kapoor promotes Jagga Jasoos on Nach Baliye 8 Grand Finale
For more Entertainment stories click here