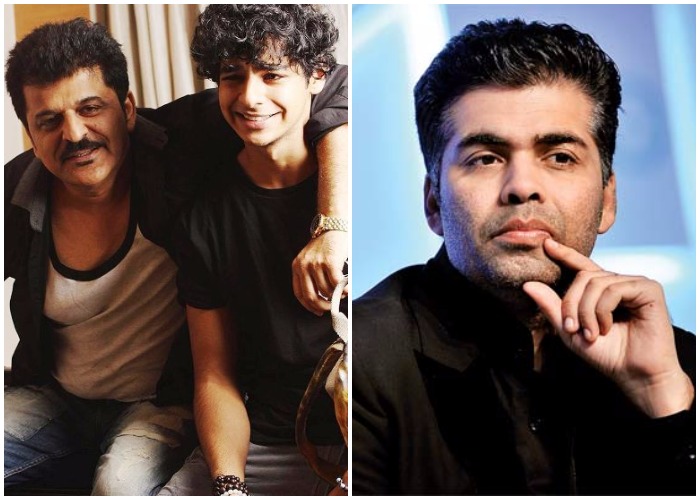 Karan Johar is being heavily trolled on the internet ever since he announced his upcoming project 'Dhadak' with Jhanvi Kapoor and Ishaan Khatter. The netizens are supposedly having issues with KJo always launching star kids and never giving a fair chance to an outsider. Jhanvi Kapoor is superstar Sridevi's daughter while Ishaan Khatter is Shahid Kapoor's half-brother. The filmmaker is being accused of nepotism and people have also dug up the old graves, saying that Kangana Ranaut was right about him.
Kangana of your show rightly pointed out "Flag Bearer of Nepotism"

— A 🇮🇳 (@Mohh_Maya) November 16, 2017
Wah great !! Father of nepotism ! Don't you even dare talk about #Prabhas asking for extra remuneration, you launch kids that can't even talk properly let alone act and commenting on the biggest star in India and world famous #Prabhas ! Loser @karanjohar

— dreamliner6672 (@dreamliner6672) November 16, 2017
Inse n ho payega ,both studied at NSD - nepotism school of drama

— Shriyesh Jayashree (@shriyeshn) November 16, 2017
Seemingly, disturbed about the backlash, Ishaan Khatter's father Rajesh Khattar says, "Social media is great to reach out if you have something to convey or share, but unfortunately, has become an open defecation ground for trolls, where people want to dump their sh** on anyone they fancy."
Rajesh reasons why Karan Johar chose Ishaan and Jhanvi instead of any other actor in industry. He said, "It's not as if Karan was compelled to take Ishaan! He is going by the subject and what he wants to project. The story is about youngsters in the 18-21-year-old age bracket and he wanted actors with no image, which is why he chose them (Janhvi and Ishaan)."
He also went on arguing that every year 400 Hindi films are made and on an average 80-100 films cast newcomers, but people only target Karan Johar out of all.
"Johar, Sajid Nadiadwala and Yash Raj Films. "When they launch newcomers, it is talked about, but it's not that other newcomers are not getting breaks. And the ones who have it in them and in their destinies are coming up. Where did Rajkummar Rao come from? Or for that matter, now Vicky Kaushal is coming up," he added.
Talking on the nepotism debate in Bollywood, he said, "What was nepotism applicable in Shahid's case? His parents — Pankaj Kapur and Neelima Azim — were not huge stars. He made his way up. Today, they are targetting Ishaan for being Shahid's brother! When Shah Rukh Khan came in, where was the nepotism? But if his son Aryan will make his acting foray, they will say nepotism! Where will the buck stop?"
He also added if nepotism existed in the industry the way people are saying, all the superstars' kids should have been superstars. "We know that's not the case. So, for all those who are crying hoarse, getting a break is only the first step. It's the public who gives the final verdict," saying this, he signs off.
Earlier this week, Karan Johar received flak from all the quarters on social media for being a 'flag bearer of nepotism'. People slammed the filmmaker for never giving fair chance to newcomers.
Karan is launching Jhanvi Kapoor and Ishaan Khatter in Marathi hit Sairat's Hindi remake Dhadak.