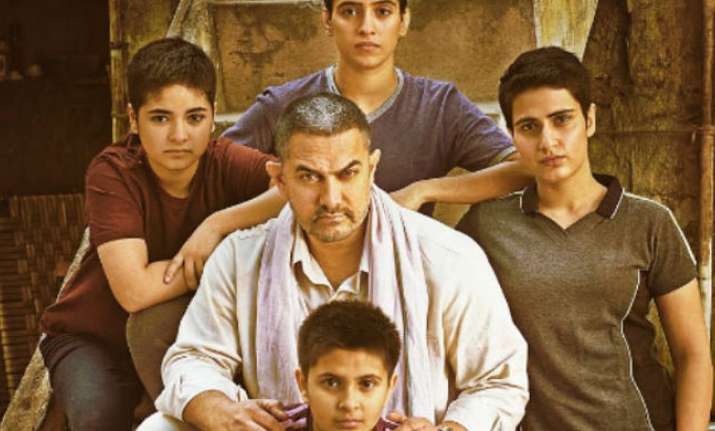 Superstar Aaamir Khan is back on the silver screen as he releases the trailer of his much awaited movie of the year 'Dangal'.
We all know that Aamir walks an extra mile to bring an element of perfection in his films and rest-assured that the three minute trailer will leave you spellbound.
With wrestling as its theme, Khan is donning the role of the renowned Haryanvi wrestler Mahavir Singh Phogat, whose sole dream is to win a gold medal for his country.
While he couldn't fulfil his wish during his career, he expects his son to accomplish it.
Why son? Because wrestling has always been considered as the men's sport. Moreover who could have thought that a girl too can do wonders in this?
And that's where Aamir's 'Dangal' challenges the stereotypical mindset.
The most interesting element in the trailer comes when Aamir as Mahavir Phogat's longing for having a son is dashed and he realises that not just a son but a daughter too can bring honour to the sport and the country.
'Dangal' is based on Phogat sisters Geeta and Babita's emotional journey to success, which is perfectly portrayed by Fatima Sana Shaikh and Sanya Malhotra.
Not just Aamir Khan, but the two new comers have seemed to put in their extra efforts to get the right physique and postures for their respective roles.
One could see the fierce determination in their eyes, which indicated that 'Choriyaan Choron Se Kam Nahin' and when these ladies flaunt their wrestling moves with a dialogue 'Bahut ho gayi pehalwani, ab dangal hoga', you can't escape the goosebumps on your body.  
On the other hand, Aamir's dialogue saying 'Maari Chhoriyaan Chhoron Se Kam Hai Ke' too has a high impact proving that this movie is going to be one emotional yet inspirational journey of father and his daughters.
Besides, the title track of the movie which is sung by Daler Mehendi also adds up to the dynamism of the trailer And not to miss is Aamir perfect dhobi pachad moment in the end as he enter the ring as young Phogat flexing his muscles before the fight.
Interestingly, with wrestling as its main theme, there were speculations that 'Dangal' might have a reflection of this year's biggest blockbuster 'Sultan' in it. But director Nitesh Tiwari has made the trailer simple and hard-hitting, which clearly depicts that this movie is a tale of women empowerment and is for the all the daughters.