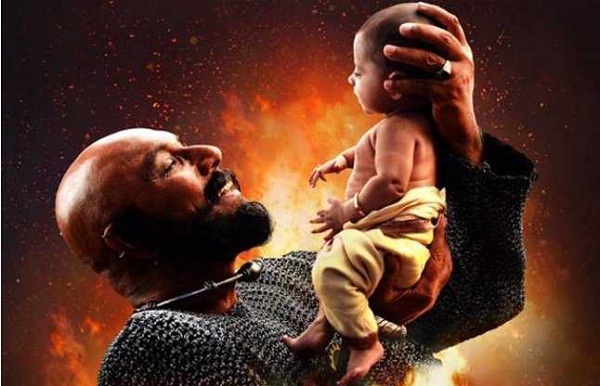 Ahead of its release SS Rajamouli's magnum opus Baahubali 2 has created a lot of buzz worldwide. A political outfit from Karnataka demanded an apology from Baahubali's most popular character Sathyaraj aka Kattapa for his controversial statement. And finally, Satyaraj has stated his apology to them.
Sathyaraj aka Kattapa has always been a mysterical charcter in the film. Since the release of its first instalment Baahubali: The Beginning, Kattapa has been in headlines for the unsolved mystery why did he kill Bahhubali? 
Not just this Kattapa had earlier also made a controversial speech, which has landed him in some serious trouble.  It is said that Satyaraj due to his controversial speech has also invited a trouble for Rajamouli's much awaited film Baahubali 2.
It all started in 2008 when Tamil Nadu government started the Hogenakkal Integrated Drinking Water Project, which was strongly opposed by Karnataka government. It was during that time when Sathyaraj made a controversial remark against a Kannada activists Vatal Nagaraj. 
Notably, Sathyaraj called Nagaraj a comic character, which resulted into a more complicated situation further. 
Kannada people, we hope you continue to love and support us! #Baahubali2 pic.twitter.com/PESYq0Ra8R

— Baahubali (@BaahubaliMovie) April 20, 2017
Nagaraj is the head of a political outfit known as Kannadiga groups and Nagaraj thought it to be the right time to take his revenge from the film crew. 
Targeting the Baahubali actor Sathyaraj, Nagaraj had issued an order to ban his film in Karnataka and even demanded an apology from Sathyaraj.
Finally, Satyaraj apologising to them said, "I have got to know that what I had spoken during the Cauvery water crisis has created a lot of tension among the people of Karnataka. I am not against Kannadiga or Karnataka. The biggest example for this is that for the last 30 years, my assistant has been Shekar who is a kannadiga. I would like to apologise for the statement that I had made nine years back and would like to say that I am a small worker in Baahubali film and my comment should not affect the film. I appeal to Tamils to understand."
An appeal to all the Kannada friends... pic.twitter.com/5rJWMixnZF

— rajamouli ss (@ssrajamouli) April 20, 2017
Meanwhile, yesterday Rajamouli through a video issued a statement saying "Whatever Sathyaraj has said has no relation with the movie or its crew. The comments were made by Sathyaraj 9 years ago. Since then many of his movies have released, even Baahubali. I request all to support Baahubali 2 the way they did for part one. We have informed Sathyaraj about the situation. We have nothing to do with his comments."
He even urged Kannada people to extend his support and love for the film. He wrote, ''we hope you continue to love and support us! #Baahubali2''