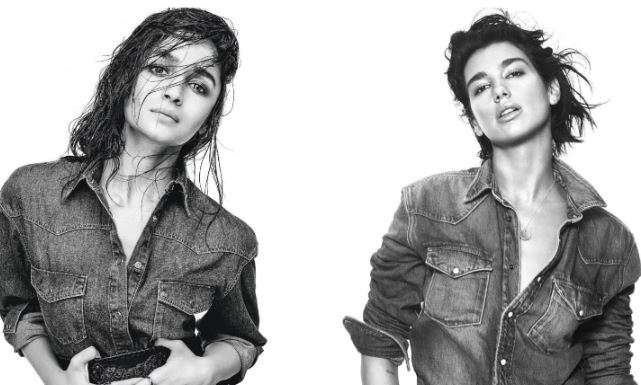 Alia Bhatt is one such actress who doesn't react to negative rumours about herself. She tries to stay away from controversies but one can't skip the negativity that comes along with the tag of a superstar. Well, Alia is currently gearing up for the release of Kalank in which she will be seen as Roop. Varun Dhawan will play her opposite and his character is Zafar. Before the film hits the screen, Alia and Varun decided to excite their fans with their chemistry.
The duo shot for the magazine cover and the results were swoon-worthy. Their pictures were enough to raise the mercury level. The on-screen couple's latest photo shoot was about denim, drama and passion. While Varun is flaunting his swoon-worthy abs in the picture, Alia looks bombshell in her metallic look. However, it is their wet grungy hair which is accentuating the overall look.
''Feeling Hot! Hot! Hot! Golden Couple Alia - Varun Is Back To Slay,'' the cover of the magazine reads. Have a look at the pictures.
However, the magazine received flak from a self-proclaimed fashion police account on Instagram which goes by the name Diet Sabya. The Instagram account called out Alia and accused her of copying a campaign cover which featured famous singer Dua Lipa.
''Magazine's and their overt references. We mean chill the f*** out bro,'' the Instagram post read. But, Alia was in no mood to take chill. She made sure to give a befitting reply to shut down her trolls.  Alia wrote, "I shot for this cover on the 6th of February 2019. If I am not mistaken the apparent "reference" was only uploaded on 24th of Feb. Not to go all true detective on you guys.. but give a girl some credit. Toodles."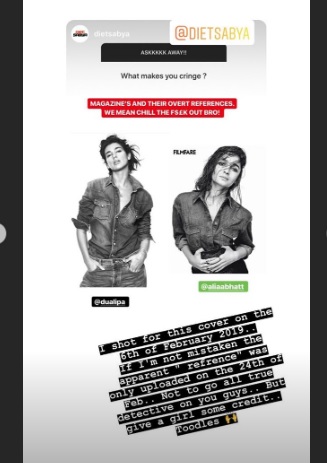 While Dua Lipa's cover shoot was shared on February 26, Alia claimed that she did the shoot earlier in February. 
On a related note, besides Kalank, Alia will also be seen in SS Rajamouli's RRR and Sanjay Leela Bhansali's Inshallah.