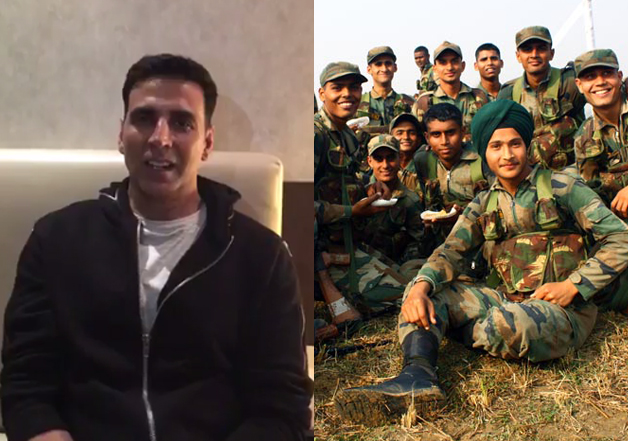 Festivals are a time when everyone wants to be with their families but the brave soldiers on the border seldom get to rejoice this joy. This year to make the soldiers happy and thank them for their sacrifices, the government of India has launched a way through which citizens can send Diwali wishes to them called #SandeshToSoldiers. Among the first ones to use this opportunity to wish the soldiers was superstar Akshay Kumar.
The Khiladi Kumar of Bollywood posted a heartfelt message for the soldiers and shared the video on social networking websites. In the video, Akshay said that it was because of the soldiers that we can celebrate festivals with our loved ones.
Akshay said, "Aap hai toh hum hain, aap hain toh Hindustan hai".
Here is his video:
Ur one wish can be the reason for a lot of smiles this Diwali.Send ur #Sandesh2Soldiers now via https://t.co/bUEI7AuMQc or Narendra Modi app pic.twitter.com/HNJjFAyOpZ

— Akshay Kumar (@akshaykumar) October 24, 2016
A few weeks ago, Akshay has slammed all who were participating in debates about whether Pakistani artistes should work in Bollywood or not. Blasting everyone, Akshay had said that people should be ashamed for debating these things when soldiers are laying their lives for our safety.
Now this new video of Akshay shows his immense love for the army, again.
If you too want to make the festival of lights special for our soldiers, you too can send them wishes. All you have to do is visit www.mygov.in.
The government released a video too highlighting how a small wish from citizens of India can lighten up their Diwali. Superstar Salman Khan had yesterday shared the video urging people to join the campaign.
Have a look at the video: