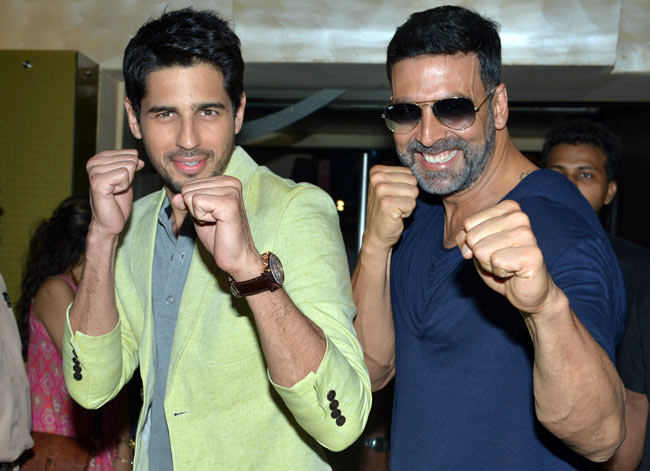 And the two heartthrobs of Bollywood Ranveer Singh and Sidharth Malhotra has joined the hilarious promotion of Toilet Ek Prem Katha with Varun. Varun united with Akshay for the promotions of his film Toilet Ek Prem Katha. And he shared a video, in which he can be seen doing pull ups and when he insists his trainer to allow him to go to the toilet, the trainer refused to do so. The trainer said there is still few days left for the film Toilet Ek Prem Katha to release, so he can't go right now.
And now actor Ranveer has also posted a hilarious video promoting Akshay's film Toilet Ek Prem Katha. The video showcase Akshay occupying Toilet Ek Prem Katha star Bhumi Pednekar's washroom. When Bhumi knocks the door, Ranveer comes out of the washroom shockingly. In the video a back ground score can also be heard playing Aha Ajaa, Aha Ajaa song. Further, when Bhumi asks him the reason of using her washroom without her permission, Ranveer can be seen giving clarification in the name of Akshay's film Toilet Ek prem Katha. 
Meanwhile, joining Akshay for Toilet Ek Prem Katha's promotions, A Gentleman star Sidharth also posted a funny video on his Instagram.
In the video Sidharth can be seen along with Akshay and he is answering the queries of the Toilet Ek Prem Katha star. Akshay is enacting a modern lady and Sidharth is playing a shopkeeper in the video. 
Akshay enquires Sidharth about a place to defecate by saying various synonyms of washroom. But Sidharth understands it only when Akshay pronounce the Hindi word of loo. The expression of both Sidharth and Akshay is just too funny to be missed. 
Meanwhile, the latest promotional video of Alia Bhatt and Karan Johar for Toilet Ek Prem Katha is simply too cute.
Also Read: Varun Dhawan joins #ToiletAaRahiHai campaign, Akshay Kumar has a witty reply, watch video
For more entertainment updates follow our Facebook page