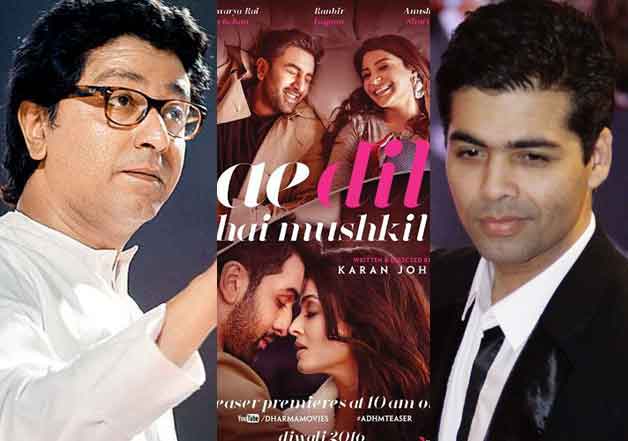 Raj Thackrey led Maharashtra Navnirman Sena (MNS) today allowed the release of Karan Johar's 'Ae Dil Hai Muhskil' but asked all the producers to pay Rs 5 crore each into the Indian Army's welfare fund as an 'atonement'.
This demand, however, invited unwanted criticism from people on micro-blogging site Twitter who termed it 'extortion'.
KJo's ambitious project ADHM landed in trouble because of the presence of Pak actor Fawad Khan. In the wake of Uri attacks and growing hostility between India, Pak; MNS had demanded a ban on the movie. Later, they altered their demand and demanded to replace Fawad with any Indian actor. The party had even threatened to vandalise cinema halls and multiplexes in Mumbai if the movie is screened.
These situations worried the makers who had earlier met top Mumbai cops seeking security to ensure film's smooth release. Though the police had assured them safety, MNS stayed put. This morning to reach a consensus on the matter Karan Johar along with Producer Guild's chairman Mukesh Bhatt met Maharashtra CM Devendra Fadnavis at the latter's residence. At the meeting the Mukesh Bhatt assured that no producer would work with Pak artistes in the future but said that ADHM should be allowed to release smoothly because  of the hard work put in by all involved in the movie.
Raj Thackeray, who was also present at the meet, demanded that each producer employing Pakistani artistes must contribute Rs five crore to the army welfare funds as 'atonement' (Prayashchit) for their actions.
"Producers will discuss the 'atonement' amount to be given with Fadnavis and inform us, but from today (Saturday) no more Pakistani artistes shall be hired. We will not tolerate any excuses on this," Thackeray declared.
This demand by Raj made him a trending topic on Twitter. Many slammed him for turning to 'goondaism' to have his demands met and few others said that army doesn't need his extorted oney. Here are few reactions from social media:
This is extortion. Plain and simple. What's the difference between Raj Thackeray and an underworld gangster? Nothing. https://t.co/xUmRQNBoBL

— Rohan (@mojorojo) October 22, 2016
Seems like Raj Thackeray has forgotten all the life principles of Balasaheb, never share your extortion earnings, even with the army.

— Rafale Gandhi (@RoflGandhi_) October 22, 2016
5 crore Army Fund me, 5 crore mere fund me, chal shaane, parcha kaat aur sumdi me vatakle. This is Deshgiri, Raj Thackeray, not Deshbhakti 😖

— गीतिका (@ggiittiikkaa) October 22, 2016
If Raj Thackeray is such a torch-bearer of 'nationalism' why didn't he or his son join the army! #JoblessRatThackeray

— Tehseen Poonawalla (@tehseenp) October 20, 2016
My 3 Demands to Raj Thackeray

Demand 1: North Indians are not Pakistanis
Demand 2: Politics is not GoondaGiri
Demand 3: Don't Hijack agenda

— Mahesh Vikram Hegde (@mvmeet) October 22, 2016