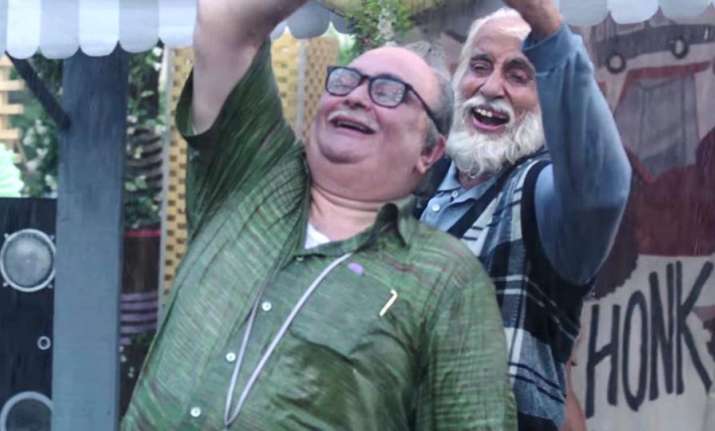 Veteran actors Amitabh Bachchan, Rishi Kapoor will be seen sharing the screen space in Umesh Shukla's 102 Not Out and the director says that it was a dream come true moment for him to have two talented stars in his movie.
The director says it did not take long to convince Bachchan in the role of a fun-loving centenarian and Kapoor as his grumpy 75-year-old son.
"I had told Abhishek Bachchan that I would like to meet Bachchan sir. He arranged a meeting. When I met him, it was a dream come true moment. I was nervous initially. When I first told him about the hook 'about a father sending his son to old age home'. He immediately said yes.
"We were thinking about Rishi ji for the role of the son. Bachchan sir was excited as he said in the past they had either played brothers or friends."
Kapoor also liked the premise of the story.
"I am glad and fortunate to have this jodi (pair)," Shukla said at the launch of the song 'Badumbaa' from the film.
Shukla initially planned a medley of Bachchan and Kapoor's old songs but Big B wanted a new track as all their previous films had an iconic number.
"Bachchan sir said in all the films that he and Rishi sir had done together, there were popular songs like 'Chal Chal Mere Bhai', 'Lambu ji Thingu ji'. So we should also have a song for this film. I initially thought of having medley of all these songs but then Bachchan sir wanted a fresh song," Shukla said.
Shukla was surprised when Bachchan told him that he will compose the song.
"I was amazed with his dedication and passion for the film. He knew everything about the film. After the shoot, he used to go to the studio to compose the song. He even made Rishi ji sing the song," he added.
Kapoor said he thoroughly enjoyed doing the song.
Talking about the word 'Badumbaa', Big B says it comes to his mind during happy moments like the Indian cricket team winning a match.
"I wanted to know why people used the word 'yeah' or 'wow' when they are happy. So I came up with this word for happiness," Bachchan said.
The film is slated to release on May 4.
(With PTI Inputs)