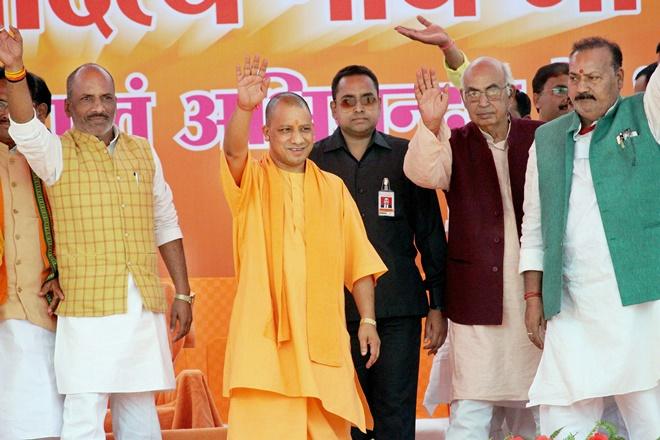 The counting of votes for Uttar Pradesh's 16 Municipal Corporations (Nagar Nigams) is underway. The Nagar Nigams went to polls in three phases on November 22, November 26 and November 29.
The Bharatiya Janata Party has bagged 14 mayoral seats and Bahujan Samaj Party has managed to win just two seats.
The 16 municipal corporations that went to polls are - Ghaziabad Nagar Nigam, Lucknow Nagar Nigam, Kanpur Nagar Nigam, Meerut Nagar Nigam, Agra Nagar Nigam, Gorakhpur Nagar Nigam, Moradabad Nagar Nigam, Aligarh Nagar Nigam, Jhansi Nagar Nigam, Varanasi Nagar Nigam, Bareilly Nagar Nigam, Allahabad Nagar Nigam, Ayodhya Nagar Nigam, Mathura-Vrindavan Nagar Nigam, Saharanpur Nagar Nigam and Firozabad Nagar Nigam.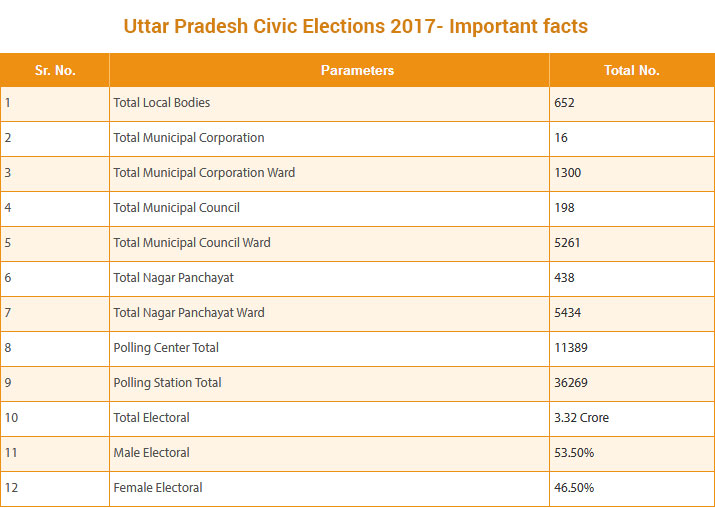 In 2012 civic polls, there were only 12 Municipal Corporations. The Bharatiya Janata  Party at that time had swept the urban local body elections in Uttar Pradesh winning 10 of 12 mayoral posts in Nagar Nigams. BJP candidates had won mayoral elections in Ghaziabad, Lucknow, Kanpur, Meerut, Agra, Gorakhpur, Moradabad, Aligarh, Jhansi and Varanasi municipal corporations.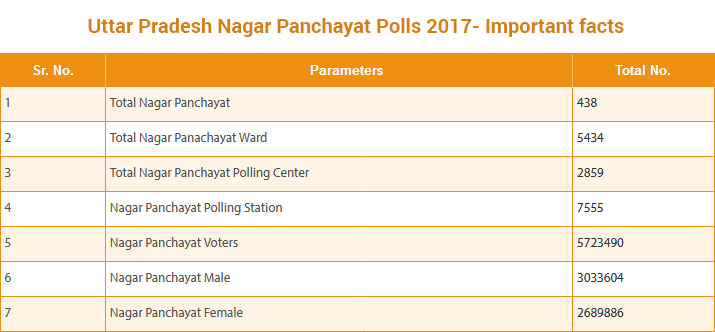 At that time, two more Corporations (Saharanpur and Firozabad) were added by Akhilesh Yadav-led Samajwadi Party government. The BJP government later added another two to the list -- Faizabad and Mathura -- making the count to 16.
HERE ARE THE RESULTS:
1. Ghaziabad Nagar Nigam: Bharatiya Janata Party (Asha Sharma)
2. Lucknow Nagar Nigam: Bharatiya Janata Party (Sanyukta Bhatia)
3. Ayodhya Nagar Nigam: Bharatiya Janata Party (Rishikesh Upadhyay)
4. Agra Nagar Nigam: Bharatiya Janata Party (Naveen Jain wins)
5. Gorakhpur Nagar Nigam: Bharatiya Janata Party (Sitaram Jayaswal) 
6. Moradabad Nagar Nigam: Bharatiya Janata Party (Vinod Agarwal)
7. Jhansi Nagar Nigam: Bharatiya Janata Party (Ramteerth Singhal)
8. Varanasi Nagar Nigam: Bharatiya Janata Party (Mridula Jaiswal)
9. Bareilly Nagar Nigam: Bharatiya Janata Party
10. Allahabad Nagar Nigam: Bharatiya Janata Party (Abhilasha Gupta) 
11. Kanpur Nagar Nigam: Bharatiya Janata Party (Promila Pandey)
12. Mathura Nagar Nigam: Bharatiya Janata Party (Mukesh Arya)
13. Saharanpur Nagar Nigam: Bharatiya Janata Party (Sanjeev Walia) 
14. Firozabad Nagar Nigam: Bharatiya Janata Party (Nootan Rathore) 
15. Meerut Nagar Nigam: Bahujan Samaj Party
16. Aligarh: Bahujan Samaj Party (Mohammad Furkan)
भाजपा के नवनिर्वाचित विजयी महापौरों व पार्षदों को हार्दिक बधाई व जनता की जनापेक्षानुसार अच्छा कार्य कर सके इसकी शुभकामनाएं pic.twitter.com/51BLXWvavm

— Dr Dinesh Sharma BJP (@drdineshbjp) December 1, 2017