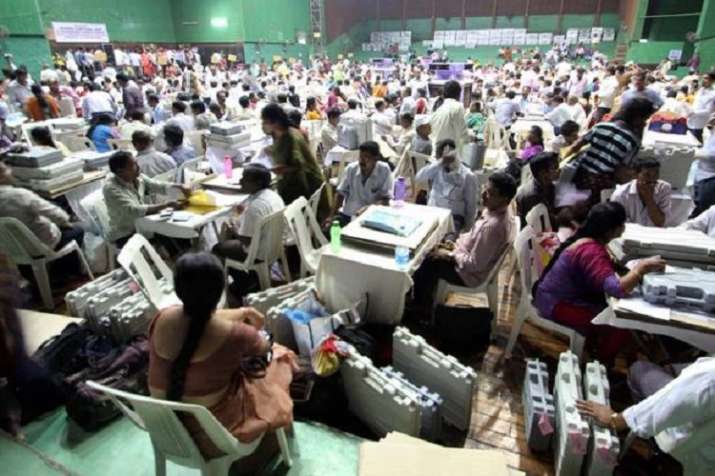 Battle lines are drawn for the December 7 Assembly elections in Telangana with the withdrawal of nominations coming to an end on Thursday. Several leaders from Congress and other major parties, who filed nominations as independents after failing to obtain party tickets to contest, have withdrawn in favour of official candidates, sources in Congress and others said.
Election officials said the final number of candidates left in the fray would be known after receipt of information from the constituencies.
Elections to the 119-member assembly will be held on December 7 and the counting would be on December 11.
Senior Congress leaders, including Ahmed Patel and Jairam Ramesh met those who were unhappy over being denied tickets and persuaded them to work for the party's success at the hustings.
Campaigning for the polls would hit top gear now with top leaders from different parties scheduled to address public meetings in the state.
UPA Chairperson Sonia Gandhi and Congress president Rahul Gandhi are scheduled to address a public meeting in Hyderabad on Friday. Sonia Gandhi is visiting Telangana for the first time after the state's formation in 2014.
Prime Minister Narendra Modi would visit Telangana on November 27 and December 3 to address rallies for the assembly elections.
"The prime minister is coming on November 27 and December 3," Telangana BJP spokesperson Krishna Saagar Rao told PTI.
He, however, said the number of rallies and locations would be finalised soon.
Telangana Jana Samiti (TJS) president M Kodandaram told reporters Thursday that his party would plunge into hectic electioneering to end the "autocratic rule" of TRS. TJS is part of the "grand alliance" for the elections.
The alliance also comprises Congress, TDP and CPI.
CPI released its manifesto for the polls Thursday, while the TDP did so on Wednesday. Congress has already announced its slew of promises, including farm loan waiver and financial assistance to women Self Help Groups, on various occasions.
The party is likely to formally unveil its manifesto soon.
The partners of the "grand alliance" were preparing a common agenda for the elections. The ruling TRS is already into hectic campaigning with its president and caretaker Chief Minister K Chandrasekhar Rao and other leaders addressing a series of rallies.