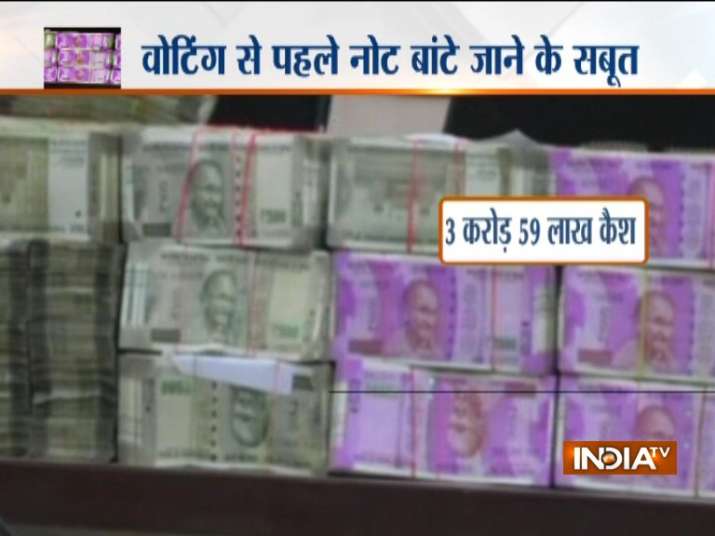 From poll-bound Telangana, over Rs 3.50 crore in cash has been seized from a van in Warangal district on the eve of the assembly polls, police said on Thursday.
To influence voters, the cash was to be delivered allegedly to some political leaders for distribution, the police said. After it got the tip-off, the police intercepted the suspiciously moving vehicle on Wednesday night and checked the van.
The check yielded the amount and the person in the van, who was detained, was identified as F Reddy known to a contesting candidate of Wardhannapet assembly constituency, the police said.
During interrogation Reddy accepted his crime.
[ALSO READ] Rajasthan and Telangana assembly elections 2018: All arrangements in place, voting to take place tomorrow
After high-voltage campaigns that saw war of words among contending parties, Telangana is all set for assembly polls on Friday.
In Telangana, the fight is expected to be triangular, especially in some seats, for the 119-member Telangana assembly where the Congress has tied up with unlikely rival TDP, CPI and Telangana Jana Samithi (TJS), a new party floated by M. Kodandaram, who was once KCR's friend in the Telangana movement to form 'Praja Kutami" (People's Front).
Over 2.80 crore electorate are eligible to exercise their franchise in the state, which has a total of 32,815 polling stations across. Additional DG (Law and order) Jitender Thursday said that about one lakh police personnel including 25,000 central paramilitary forces and 20,000 from other states are engaged in poll duties.
WATCH VIDEO: Aaj Ki Baat with Rajat Sharma | December 6, 2018
(With inputs from agencies)