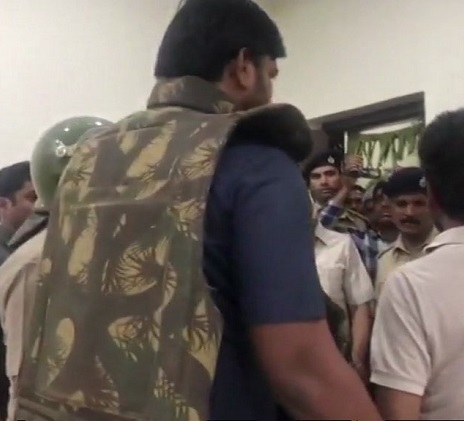 Telangana Congress Working President Revanth Reddy was detained by the state police on Tuesday, ahead of Chief Minister K. Chandrashekhar Rao's election rally in Vikarabad district. He was taken into preventive custody early on Tuesday, to prevent any untoward incident during Rao's rally in Kosgi, Kodangal. Reddy was later shifted to an undisclosed location.
Reddy, who quit the Telugu Desam Party (TDP) to join the Congress earlier this year, represented Kodangal in the dissolved Assembly.
His detention came in view of Reddy's threat to disrupt the Telangana Rashtra Samithi (TRS) chief's rally. He had called for a shutdown to protest it.
A notice was also issued by the Election Commission to him for his threat.
Two cases have been booked against the Congress leader.
Prohibitory orders have been imposed in the town to prevent any untoward incident, as tension prevailed in Kodangal following Reddy's detention.
Telangana will go to polls on December 7 and the counting of votes will take place on December 11.