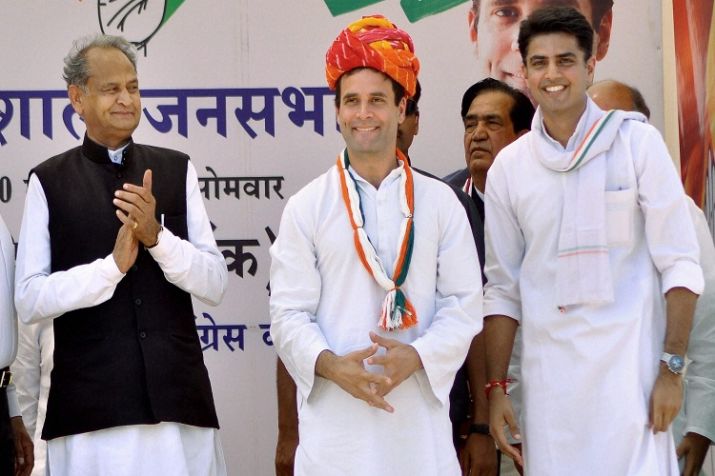 The Congress on Thursday releases its election manifesto for the December 7 Rajasthan Assembly elections. Releasing the manifesto in Jaipur, Rajasthan Congress president Sachin Pilot said that his party would start a pension scheme for farmers if voted to power in the state. Pilot said that the manifesto has been prepared on the basis of inputs from public. 
He also announced that the Congress government would establish a board to prevent migration of peple to other states.
Former Rajasthan chief minister Ashok Gehlot, chairman of the manifesto committee Harish Chaudhary and other senior leaders of the party were also present on the occasion of manifesto launch.
Pilot said the Congress party will waive the loans of farmers if voted to power, an announcement party president Rahul Gandhi had made during an election meeting in Jaisalmer's Pokhran Assembly constituency on Monday. Rahul Gandhi had announced to waive farmers' loan within 10 days if the party forms government in Rajasthan. 
He said the Congress intends to give Rs 3,500 monthly allowance to unemployed youths in the state.
The party has also promised to bring a legislation for the protection of journalists in the state. The party has promised to form an implementation committee for time-bound implementation of the manifesto. 
The opposition party promised to promote organic farming, give pension to elderly farmers, develop dairy industry, give push to fisheries, provide internet facility in every panchayat, link villages with eastern Rajasthan canal project.
It promised to ensure quality health services to citizens, availability of wheat to BPL families at Re 1 per kg, easy monetary loans to the youth and no fare in state-run buses for candidates travelling to appear in competitive exams.
It said it will expedite work on rail connectivity in Dungarpur, Banswara and Tonk districts if it comes to power in the state.
Rail line is a prominent poll iss
A day earlier, the BJP released its manifesto for Rajasthan polls, saying it had met 95 per cent of the promises it had made in 2013.