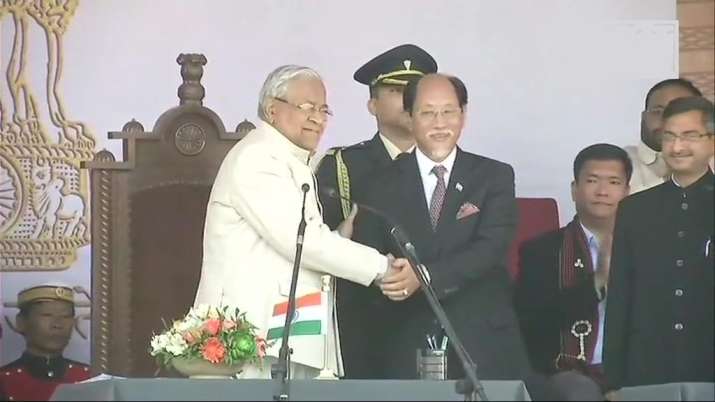 The new Nagaland government headed by NDPP leader Neiphiu Rio took oath at a public function in Kohima today. Governor P B Acharya administered the oath of office and secrecy to Rio and the 11 ministers at the main rostrum of the ground, in the presence of  BJP president Amit Shah and Defence Minister Nirmala Sitharaman.
The Nationalist Democratic Progressive Party (NDPP), in alliance with the BJP, took over the reins of the north-eastern state with the support of 32 MLAs. The alliance chose senior NDPP leader Rio as the chief minister. 
Also read | Nagaland Election Results 2018: Who is Neiphiu Rio, CM face of BJP-NDPP alliance
 
As it Happened: 
02:15 pm: We want development in Nagaland. We will work hard to facilitate the Naga political issue at the earliest: CM Neiphiu Rio
2:00 pm: We want to give good governance to the people of Nagaland. We (BJP) got six ministers in the cabinet: Y Patton, Deputy CM of Nagaland.
12:29 pm: 
Neiphiu Rio sworn-in as the CM of Nagaland in Kohima. pic.twitter.com/bIiT0af0j9

— ANI (@ANI) March 8, 2018
12:20 pm: Defence Minister Nirmala Sitharaman, MoS Home Kiren Rijiju, BJP President Amit Shah and BJP National General Secretary Ram Madhav present at the oath ceremony of Nagaland CM designate Neiphiu Rio in Kohima.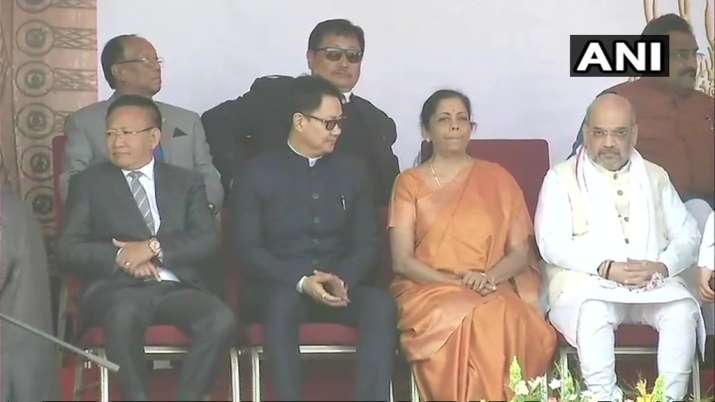 12:15 pm: CM of Manipur N Biren Singh, CM of Arunachal Pradesh Pema Khandu, CM of Assam Sarbananda Sonowal and CM of Conrad Sangma present at the oath ceremony of Nagaland CM designate Neiphiu Rio in Kohima.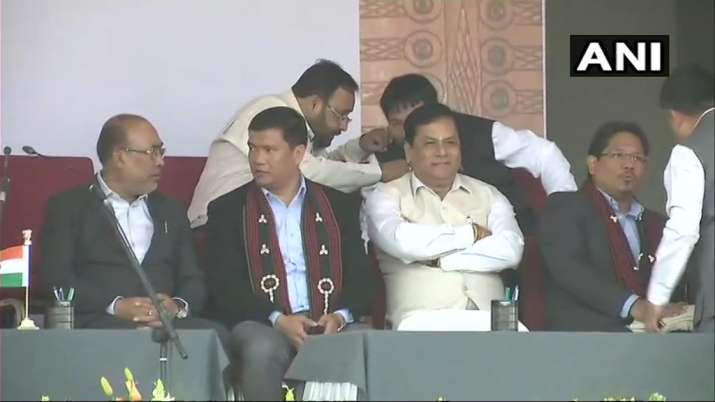 10:32 am: Cabinet minister who will take oath today: 
From NDPP: CM Chang, Neiba Kronuo, Phowang Konyak and Metsibu Jamir 
From BJP: Pangyu Phom, Jacob Zhimomi, Temjem Imna Along and Kashiho 
From JDU: G Kaito Aye
Independent: Tongpang Ozukum 
08:40 am: 11 cabinet ministers to take oath along with CM designate Neiphiu Rio in Nagaland's Kohima
08:36 am: 
Preparations underway for oath ceremony of CM designate Neiphiu Rio in #Nagaland's Kohima pic.twitter.com/XDQTjnjd06

— ANI (@ANI) March 8, 2018
08:00 am: Public event: The state had invited the common people to the ceremony through newspaper advertisements issued by the Department of Information and Public Relations. The swearing-in ceremonies in the state have so far been high-profile shows at the Darbar Hall of Raj Bhavan, with VVIPs, VIPs and top bureaucrats in attendance.
07:50 am: NDPP-BJP alliance: The newly-mandated alliance government comprises of 32 elected members of the NDPP, BJP, JD(U) and an Independent. 
07:40 am: Fourth-time CM: Rio will be assuming the charge of Nagaland chief minister for the fourth time. He had served his three previous terms between 2003 and May, 2014. 
Also read | Tripura, Nagaland victories endorsement of PM Modi's leadership: Amit Shah
07:30 am: No PM Modi: Prime Minister Narendra Modi, who was reportedly requested to grace the swearing-in ceremony as this was the first time the BJP had won 12 seats in the state, had expressed his inability to attend it, a source in the Raj Bhavan said.
07:20 am: Key guests: NDPP secretary general Abu Metha said Assam Chief Minister Sarbananda Sonowal, Arunachal Pradesh Chief Minister Pema Khandu and Meghalaya Chief Minister Conrad Sangma were also expected to attend the ceremony. 
07:10 am: Historic venue: As the swearing-in ceremony would be held at the Kohima Local Ground, the stretch between the Y-junction and the DC office was repaired to ensure a smooth commute, sources said. The venue, Kohima Local Ground, holds significance as the announcement of Nagaland's statehood on December 1, 1963 was made from here by the then president Sarvepalli Radhakrishnan. 
Also read | Nagaland: BJP snaps 15-year-old ties with NPF, to go with NDPP
07:00 am: Tight security: The district administration and the police had made adequate security arrangements and traffic had also been streamlined for today's ceremony, they added.
(With inputs from agencies)