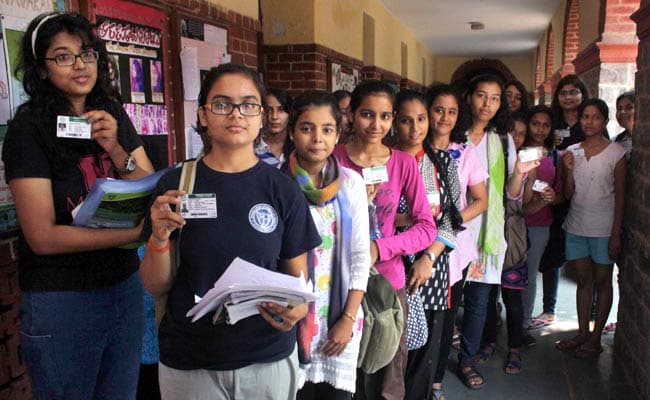 Voting is underway for the Delhi University Students' Union (DUSU) polls. As many as 1.35 lakh students will decide the fate of 23 candidates form 
The 1.35 lakh students of Delhi University are set to seal the fate of 23 candidates in the Delhi University Students' Union (DUSU) polls Congress' student wing NSUI, BJP's ABVP, AAP's CYSS and Left wing AISA. 
Around 700 electronic voting machines (EVMs) have been installed in 52 centres. The polling in the morning colleges started at 8 am and will end at 1 pm, while in evening colleges, it will be held between 3 pm and 7.30 pm.
The results will be announced on September 13.
While the National Students' Union of India (NSUI) has promised the "Institute of Eminence" tag for Delhi University and thalis for Rs 10, the Akhil Bharatiya Vidyarthi Parishad (ABVP) has promised to spend 50 per cent of the union's budget on women and social justice-related activities, along with a special attention to promoting sports and installing sanitary pad vending machines on college campuses.
The Aam Aadmi Party's (AAP) student wing, the Chhatra Yuva Sangharsh Samiti (CYSS), and left-wing students' outfit All India Students Association (AISA) are jointly contesting the DUSU polls.
After the AAP came to power in Delhi in February 2015, its students wing had unsuccessfully contested the DUSU polls.
It has promised to ensure installation of CCTV cameras, setting up of police booths on campus, ending the "culture of hooliganism" and opposing commercialisation of education.
Presidential candidates for DUSU elections: 
Sunny Chiller (NSUI) 
Ankiv Basoya (ABVP) 
Abhigyan (AISA-CYSS) 
Akashdeep Tripathi (SFI) 
Preeti Chauhan (INSO)
Last year, the polls saw a 43-per cent voter turnout. 
(With inputs from PTI)