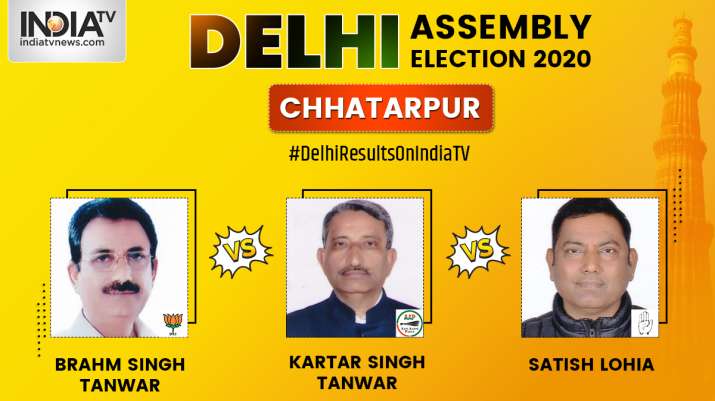 Chhatarpur Constituency Result: AAP's  Kartar Singh Tanwar has won the Chhatarpur Assembly seat by a margin of over 3,000 votes. He defeated BJP's Brahm Singh Tanwar. The Chhatarpur constituency is a mix of urban villages, posh farmhouses, unauthorized colonies, and JJ clusters.
The AAP has re-nominated Kartar Singh Tanwar to contest the seat, while Brahm Singh Tanwar will fight on a BJP ticket. The Congress, on the other hand, has fielded Satish Lohia as its candidate.
In 2015, Kartar Singh Tanwar of the AAP won the election. In 2008 polls, Congress's Balram Tanwar had won the seat. In 2013, BJP's Brahm Singh Tanwar won the seat. 
Delhi Assembly Election 2015 Result
 
Parties and coalitions
Popular vote
Seats
Votes
%
±pp
Contested
Won
+/−
%
 
Aam Aadmi Party (AAP)
48,78,397
54.3
24.8
70
67
39
95.7
 
Bharatiya Janata Party (BJP)
28,90,485
32.2
0.8
69
3
28
4.2
 
Indian National Congress (INC)
8,66,814
9.7
14.9
70
0
8
0.0
 
Bahujan Samaj Party (BSP)
117,093
1.3
4.1
70
0
0.0
 
Indian National Lok Dal (INLD)
54,464
0.6
2
0
0.0
 
Independents (IND)
47,623
0.5
2.4
222
0
1
0.0
 
Shiromani Akali Dal (SAD)
44,880
0.5
0.5
1
0
1
0.0
Other parties and candidates
42,589
0.5
2.1
376
0
0.0
None of the Above (NOTA)
35,924
0.4