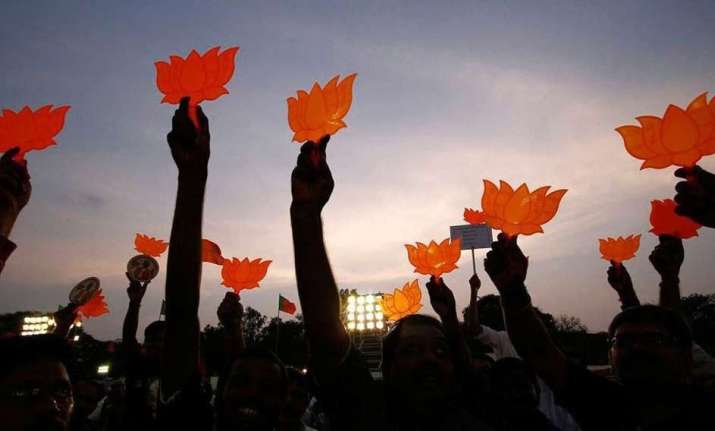 Bharatiya Janata Party (BJP) mantained the winning trend on Sunday by sweeping three out of 5 assembly seats that went to bypolls on December 21. 
While the party was able to retain Uttar Pradesh's Sikandra seat, it also managed to wrest Likabali and Pakke Kesang in Arunachal Pradesh from Congress. In West Bengal, although the party candidate lost with a massive margin to Trinmool Congress, but BJP's vote share registered a significant hike. 
Prime Minister Narendra Modi congratulated the party for each win and thanked voters for support. 
"My gratitude to the people of Sikandra for once again supporting BJP. Our commitment to serving India's villages and taking them to new heights of progress is unwavering. I congratulate CM @myogiadityanath Ji and the @BJP4UP Team for their stupendous efforts," PM Modi tweeted. 
To people of Arunachal Pradesh, Modi thanks for reposing their faith in BJP by electing its candidates on both Likabali and Pakke Kesang. "We derive immense strength from this affection and remain committed to transforming the Northeast," he said on Twitter. 
"Happy to see a significant rise in the BJP's vote share in Sabang, West Bengal. I thank the people for their support and assure them that BJP will leave no stone unturned in serving West Bengal. I appreciate the @BJP4Bengal Karyakartas for their effort," the Prime Minister said. 
BJP retains Sikandra (UP)
The BJP retained the Sikandra Assembly seat of bandit Phoolan Devi fame in a bypoll by a margin of over 11,000 votes. 
According to the Uttar Pradesh chief electoral officer's office, BJP's Ajit Singh Pal secured 73,284 votes (44.86 per cent), while his nearest rival, Seema Sachan of the Samajwadi Party (SP), bagged 61,423 votes (37.60 per cent).  The victory margin of the BJP candidate was 11,861 votes. 
Read full story: BJP retains Sikandra Assembly seat of Phoolan Devi fame
Saffron win in Pakke-Kessang and Likabali (Arunachal)
The BJP wrested both the Pakke-Kessang and Likabali Assembly seats from the Congress. With this, the 60-member state Assembly now has 49 MLAs from the saffron party, nine from the Peoples' Party of Arunachal (PPA), one Congress and one Independent legislator.  
BR Waghe of the BJP won the Pakke-Kessang seat by a narrow margin of 475 votes, defeating his lone rival and former deputy chief minister, Kameng Dolo of the Congress.  In the Likabali seat, BJP's Kardo Nyigyor won by a slender margin of 305 votes, defeating his nearest rival, Gumke Riba of the PPA. 
Read full story: BJP wrests both Pakke-Kessang and Likabali Assembly seats from Congress
Seat margin rise in Sabang (WB)
With civic polls around the corner, Bharatiya Janata Party has not left any stone unturned to increase its voter base in Mamata Banerjee's West Bengal. The results of the effort were visible in the current bypoll as the BJP aspirant Antara Bhattacharyya registered a significant rise in the vote share.  
Also Read: Trinamool Congress candidate Gita Rani wins with a massive margin of 64,192 votes, CPM on second spot
Less than NOTA, BJP makes a dismisive debut in AIADMK den (RK Nagar, TN)
Only dismissive exhibition for BJP in assembly bye-elections was in Tamil Nadu's RK Nagar in Chennai, where AIADMK, DMK and Sasikala camp has locked horns to win over former chief minster Jayalalithaa's constituency. The sidelined AIADMK leader and Sasikala's nephew TTV Dinakaran emerged victorious with a lead of more than 40,000 votes over his nearest rival from AIADMK. 
BJP, which entered into fray in RK Nagar for the first time, secured less votes than NOTA option.
You might also like: TTV Dinakaran wins by over 40,000 votes in RK Nagar bypoll: 10 things to know about him