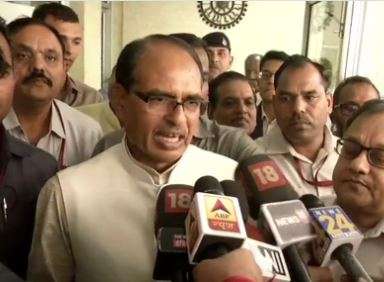 Madhya Pradesh Chief Minister Shivraj Singh Chouhan on Tuesday attacked Rahul Gandhi over latter's comment about his son. 
Congress president, on Monday, "out of confusion" dragged name of MP CM's son in Panama Papers case and, on Tuesday, he admitted his mistake. 
"How Rahul Gandhi dared to take the name of my son who is not even in the politics," asked MP CM.
Rahul Gandhi is doing cheap politics, he alleged and demanded an apology from the Congress president.
He is leveling false allegations, Chouhan further said.
Kartikey Chouhan has filed a defamation case against Rahul Gandhi over his statement 'MP CM's son's name was mentioned in Panama Papers leaks,'during a political rally y'day. This is a objectionable statement given with a criminal intention:S Srivastava,lawyer of Kartikey Chouhan pic.twitter.com/2Z0T283ghM

— ANI (@ANI) October 30, 2018
Rahul Gandhi is on a two-day tour of poll-bound Madhya Pradesh (MP).
ALSO READ: Madhya Pradesh Assembly Elections 2018: CM Shivraj Singh Chouhan threatens to file defamation suit against Rahul Gandhi 
In MP, where elections are scheduled to be held on November 28, the Congress has been struggling to oust the ruling Bhartiya Janata Party (BJP) from power for the last 15 years.
On Tuesday, Gandhi will interact with news editors and the business community in two separate programmes at Indore, the commercial capital of Madhya Pradesh. He will later address public meetings at Dhar and Khargone.
On Tuesday evening, the Congress chief would address a public meeting at Mhow after offering tribute at the memorial of Dalit icon B R Ambedkar's birthplace. Mhow, about 23 km from Indore, is the birthplace of Ambedkar.
Gandhi began canvassing in Madhya Pradesh last month by offering prayers at the famous Kamta Nath temple in Satna district's Chitrakoot town.
WATCH VIDEO: Rahul Gandhi goofs up on Panama papers during his rally in Madhya Pradesh
(With inputs from agencies)