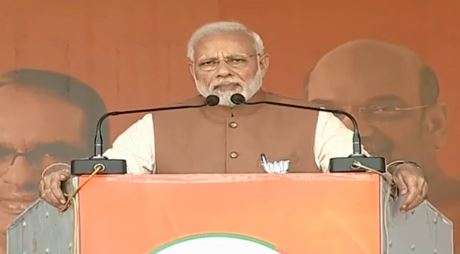 Prime Minister Narendra Modi on Tuesday attacked the Congress party in the poll-bound Madhya Pradesh and urged people not to elect grand old party's candidates.
"Ensure that not even a single Congress candidate is elected," Modi said at a campaign rally in Rewa for November 28 Madhya Pradesh assembly polls.
"When pregnant mother had to be rushed to hospital on a tractor or a cot, there were no roads from village to the city. Often the mother died, the child died or sometimes both. Those were the days of Congress," he added.
"Look how the Karnataka Government is treating farmers. They are calling farmers 'goons' and harassing them. This is unacceptable! Congress, which is an integral part of the Government should stop talking about farmer welfare. Their actions show they do not care for farmers," he further said.
The grand old party institutionalised corruption in India, Modi said and added, "It is high time Congress returns to the poor what they looted from them for decades."
For the past 15 years, the Bharatiya Janata Party (BJP) is ruling the state. This time the saffron party is seeking the fourth consecutive term.