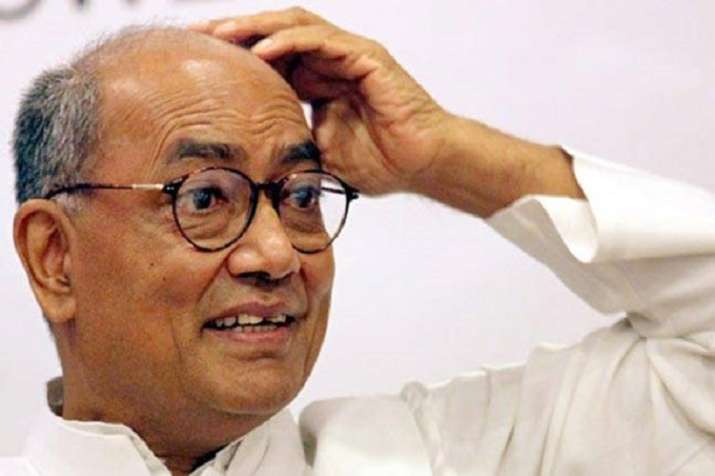 Veteran Congress leader and former Madhya Pradesh Digvijaya Singh has not been campaigning for his party in Madhya Pradesh where Assembly elections are due next month. Digvijaya Singh said there is a reason behind him doing so.
A video of the senior Congress leader has gone viral in which he is  heard saying that his party's votes get reduced whenever he campaigns. The video was said to be recorded on October 13.
"...mera kaam keval ek. Koi prachar nahi, koi bhashan nahi. Mere bhashan dene se to Congress ke vote kat-te hai, mai nata nahi (I have only one job, no campaigning, no speech.When I deliver a speech, Congress votes get reduced, so I don't go)," Singh is heard saying in the video.
In the video, in which he is seen talking casually to party workers at the residence of MLA Jitu Patwari in Bhopal, Digvijaya Singh also advises Congress workers to campaign for candidates wholeheartedly to achieve victory.
"Dekho, khwaab dekhte rah jaaoge agar kaam nahi kiya to. Nahi banegi sarkar agar aise kaam kiya to. Jisko ticket mile, chahe dushman ko mile, jitao (You will continue dreaming if you do not work. You can't form the government if you work like this. Even if the ticket is given to a rival in the party, you should ensure his victory)," he is seen telling the party workers.
Shivraj takes potshots
The ruling BJP was quick to take a dig at the opposition party over Digvijaya Singh's comments, with Chief Minister Shivraj Singh Chouhan saying the Congress should not treat one of its senior leaders in this manner.
"We (BJP) have not given him (Singh) this pain. It was given by the Congress itself. His posters are not being put up, he is not being given prominence," Chouhan said.
"I never imagined the Congress will treat one of its leaders in this manner. Congressmen should, at least, respect their leader," he added.
Voting for for the 230-member Madhya Pradesh Assembly is scheduled on November 28 while counting of votes will be taken up on December 11.
WATCH: Digvijaya Singh reveals why he's not campaigning in MP
(With inputs from PTI)