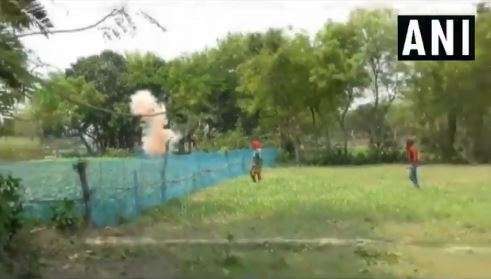 A man standing in a queue to vote has been killed in clashes between the Congress and the Trinamool Congress (TMC) workers in Murshidabad's Baligram in West Bengal.
The 52-year-old man,claimed to be a Congress activist, was hacked to death outside a booth during polling in Murshidabad Lok Sabha constituency.
The victim, identified as Tiyarul Sheikh, went to vote at a booth in Baligram Primary School under Bhagwangola police station limits when a group of men attacked him with sharp weapons following an altercation.
Another act of violence was reported from Buniadpur area of Dakshin Dinajpur where a polling agent was found dead at his house.
Earlier in the day, at least three people were injured after unidentified men hurled a crude bomb at them in Domkal municipality in Murshidabad.
In a similar incident, the BJP and TMC workers are reported to have destroyed each other's camp offices in the Samsi area of North Malda.
Also, according to various reports, a polling agent was seen flouting rules and cast votes for women in Malda district.
The fight in Malda North is between cousins Isha Khan Choudhury of the Congress and incumbent MP Mausam Noor, who won on a Congress ticket in 2014 but defected to the TMC in January this year.
The BJP candidate from Malda North is another turncoat, Khagen Murmu, who crossed over from the CPI-M. The party has nominated Biswanath Ghosh.
Polling in West Bengal, which has 42 seats at stake, is underway. Voting is taking place for five Lok Sabha seats on Tuesday.
The counting of votes will take place on May 23.