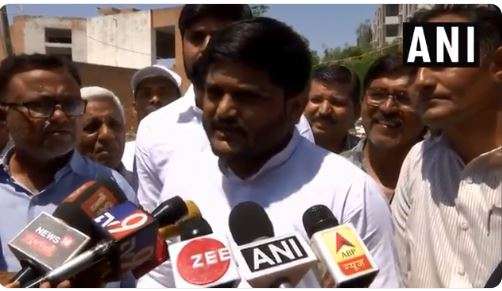 Congress leader Hardik Patel on Wednesday said he wanted a prime minster who could take care of the country and not a 'chowkidar' in a jib at Prime Minister Narendra Modi and his 'main bhi chowkidar' rhetoric.
Patel, after casting his vote at booth number 252/355 in Surendranagar constituency, said, "If I want a chowkidar [a guard], I will go look for it in Nepal. I want a prime minister who can take care of the economic situation of the country, the one who makes the youth, education of the country strong. I want a prime minister not a chowkidar."
The Patidar leader, who joined the Congress last month, is one of its star campaigners in the state.
The Congress, along with other Opposition parties, has been critical of PM Modi's chowkidar rhetoric, citing widespread corruption and growing unemployment in the country.
The third phase of 2019 Lok Sabha elections is covering the highest number of parliamentary seats. In this phase, 116 seats have gone to polls.
All parliamentary constituencies in Gujarat, Kerala, Dadra and Nagar Haveli, Goa and Daman and Diu will vote today in a single phase.