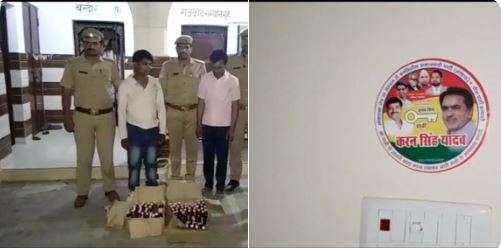 Cops, on Sunday, arrested two people for distributing liquor allegedly for Pragatisheel Samajwadi Party (Lohia)'s Karan S Yadav in Sambhal city in Uttar Pradesh.
"We were informed of liquor distribution by people of a party. Action being taken for Model Code of Conduct violation. The candidate is Karan Singh Yadav," ANI quoted cops as saying.
Pragatisheel Samajwadi Party is a political party formed by former cabinet minister of Uttar Pradesh Shivpal Singh Yadav. He formed the party after leaving the Samajwadi Party on 29 August 2018. 
During polls, incidents related to the distribution of liquor and cash gain momentum.
The Election Commission seized unaccounted cash, illicit liquor, drugs, gold and freebies worth Rs 2,626 crore since the model code of conduct came into effect, said an official recently.
"Total seizure in 2019 elections so far, till 6 p.m, is worth Rs 2,626 crore -- cash Rs 607 crore, liquor worth Rs 198 crore, drug and narcotics worth Rs 1,091 crore, precious metal worth Rs 486 crore, and freebies and other items worth Rs 48 crore," news agency quoted an Election Commission official as saying.