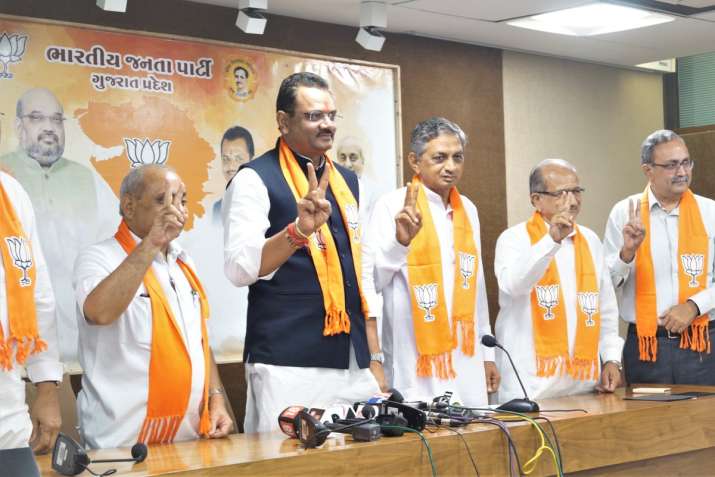 Accusing Congress President Rahul Gandhi of playing caste politics, veteran Gujarat Congress MLA and prominent Koli community leader Kunvarji Bavaliya on Tuesday quit as a legislator to join the ruling BJP. He also accused him of ignoring the aspirations of senior leaders. Bavaliya will be sworn in as a minister in the evening.
A four-time MLA from Jasdan and former Lok Sabha member from Rajkot in 2009, Bavaliya handed over his resignation to Speaker Rajendra Trivedi. He subsequently went to the BJP's "Shree Kamalam" state headquarters and met the party's state President Jitu Vaghani and two other cabinet ministers to join the party.
The Koli community leader, who has been sulking ever since the December 2017 elections for being ignored for any key party position, said: "Gandhi has been playing caste politics at the cost of the aspirations of senior party men and even the state Congress leadership was doing the same."
Catch all the latest news about Lok Sabha elections 2019 HERE
"This has been playing on my mind for some time since I was unable to carry out public welfare works without interruption because of internal politicking in the party. 
"On the other hand, I had been watching how Prime Minister Narendra Modi at the national level and Chief Minister Vijay Rupani at the state level has been working for public good," he told reporters after joining the BJP. 
[You may also like to read] Monday Talk | 'Outsiders' in party need to be purified from 'Ganga Jal': BJP MP Shyama Charan Gupta
Welcoming Bavaliya, State BJP chief Jitubhai Vaghani said: "Such a senior leader from the Koli community, he is president of the All-India Koli Samaj, would be big a asset for the party. 
"This is why Chief Minister Rupani has decided to induct him as a minister today (Tuesday)."
"He will be sworn in at 4 p.m.," Vaghani added.
Bawalia said: "Narendra Modi had sentimental relations with me and often told me that the BJP was on the lookout for sincere leaders like me. And the way he is running the government at the national level, he is wedded to development of the country. Ditto Vijay Rupani in Gujarat."
His resignation comes days after another leader from Rajkot, former legislator Indranil Rajyaguru, quit alleging that the Congress leadership ignored the aspirations of several party seniors.
Rajyaguru had unsuccessfully contested Gujarat Assembly elections in December 2017, against Vijay Rupani. 
The richest MLA from Gujarat, Rajyaguru had vacated his safe Rajkot East constituency to taken on the chief minister.
The development has come at a time when less than a year is left when the country will witness Lok Sabha elections 2019 to constitute the 17th Lok Sabha. 
In Gujarat, in the last assembly election, BJP retained power despite hard efforts by the Congress president Rahul Gandhi. The 2019 LS polls are being seen my many as a direct fight between PM Modi & Rahul Gandhi.
(With IANS inputs)