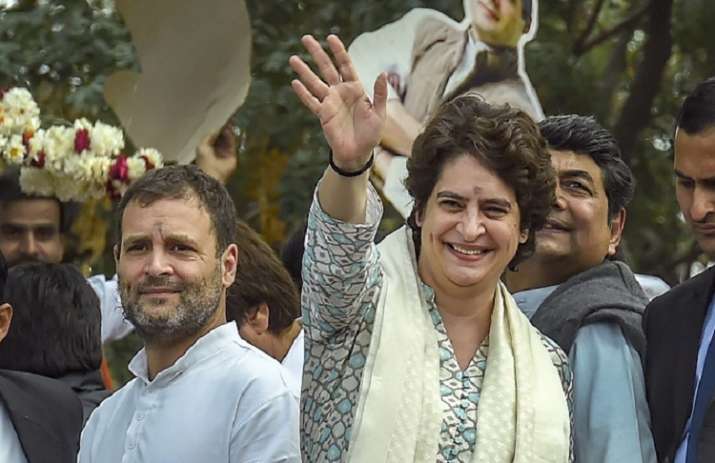 Priyanka Gandhi Vadra has hit the campaign mode in Uttar Pradesh attending a series of meeting with party workers with an aim to resurrect the organisation in the politically crucial state ahead of the upcoming Lok Sabha elections. Priyanka, who was recently appointed Congress general secretary for UP East, met party workers from Amethi - the paliamentary constituency represented by her brother and party president Rahul Gandhi - at the party headquarters in Lucknow on Wednesday.
When asked by reporters about a 'muqabla' (contest) with Prime Minister Narendra Modi, the newly appointed AICC office bearer said, "Kar to rahe hein Rahulji, Modiji se muqabla (Rahul Gandhi is already taking on Modi)."
She also played down the questioning of her husband Robert Vadra by the Enforcement Directorate in Jaipur, in connection with an alleged land scam in Rajasthan's Bikaner district.
"These things will keep on happening, I am doing my own work," she said.
On her marathon meeting with party workers, Priyanka Gandhi said she is happy to see the enthusiasm among them.
"I am learning a lot about the organisation and how it is structured. I am getting views on how to fight the elections," she said.
Forty-one of the Lok Sabha constituencies in the state have been placed under her charge and the remaining 39 under Jyotiraditya Scindia.
Priyanka Gandhi and Scindia were appointed AICC general secretaries for UP east and UP west respectively in January and took charge last week.
Among the constituencies placed under Priyanka Gandhi's charge are the key seats of Lucknow, Amethi, Rae Bareli, Sultanpur, Gorakhpur, Varanasi, Phulpur, Allahabad, Barabanki, and Kushinagar.
Saharanpur, Kairana, Muzaffarnagar, Moradabad, Ghaziabad, Mathura, Pilibhit, Dhaurahra, Kanpur and Farrukhabad are some of the key constituencies in Scindia's charge.
(with inputs from PTI)