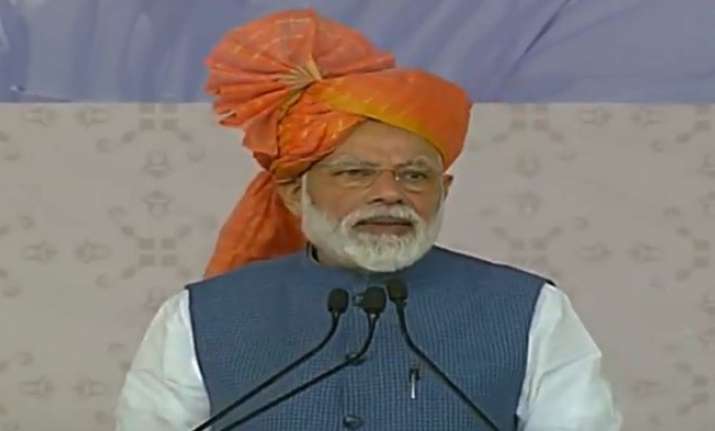 Prime Minister Narendra Modi on Tuesday laid the foundation stone of Shikshan Bhavan and Vidyarthi Bhavan at Adalaj in Gujarat. PM Modi is on a two-day visit to Gujarat.
Modi also launched the 'Pradhan Mantri Shram Yogi Pension Yojana (PM-SYM Scheme 2019)' at a function held in Vastral area of the city.
This will be the national launch of the scheme, aimed at providing monthly pension of Rs 3,000 for the workers in unorganised sector.
On Tuesday, he will also attend the 'pran pratishtha' ceremony, a ritual of consecration of an idol, at the newly-built temple dedicated to Maa Annapurna, the reigning deity of Leuva Patidars, a sub group of the Patel community.
The temple complex, named as Annapurna Dham, is situated near Adalaj village of Gandhinagar district.
On Monday, Modi expressed confidence that the Bharatiya Janata Party, under his leadership, would return to power in the Lok Sabha elections 2019.
"Don't worry... I am coming back in 2019 so if you need anything from the Central government, you can tell me," he told a massive gathering of the Patidar community at Jaspur.
The Prime Minister was speaking at the foundation stone-laying ceremony of the Rs 1,000 crore Umiya Mata Temple complex of the community on the outskirts of Ahmedabad.
Wishing all success to the trustees of Umiya Mata Foundation for this project, Modi said, amid huge applause, "If you need anything in this, my home in New Delhi is all yours, and don't worry I am there even after 2019 (elections)".
Modi meets his mother during Gujarat visit:
Modi on Monday met his nonagenarian mother Hiraba in Raisan village near here after addressing a gathering in Ahmedabad late in the evening.
Hiraba Modi lives with the PM's younger brother Pankaj Modi in the village located close to the state capital Gandhinagar.
The prime minister spent around 30 minutes with his mother and other family members.
Before calling on his mother, Modi visited the famous Dholeshwar Mahadev temple near Raisan and offered prayers on the occasion of Mahashivratri.
WATCH VIDEO
(With inputs from agencies)