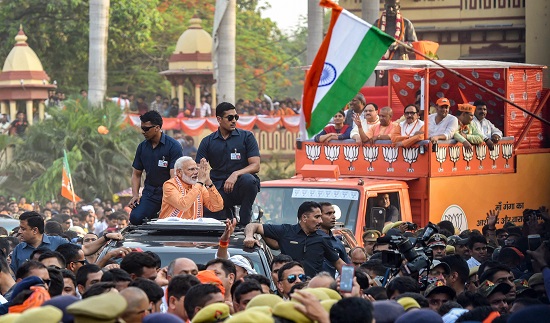 A large crowd, many in it wearing saffron caps and scarves, gathered near the iconic Banaras Hindu University gate of Varanasi on Thursday evening to welcome Prime Minister Narendra Modi.
From streets to rooftops, chanting of 'Modi Modi' slogans could be clearly heard in the background as lakhs march with the Prime Minister. People were seen hanging from balconies and rooftops to have a glimpse of their favourite leader.
Supporters could be seen trying to capture the moment with their mobile cameras, while others showering flowers as Modi's carcade passes through at a snail pace.
Starting from Lanka, Modi's roadshow passed through Assi, Bhadini, Sonarpura, Madanpura, Jangambadi and Godowlia before culminating at Dashashwamedh Ghat, where he took part in Ganga Aarti.
Several top BJP leaders, including party chief Amit Shah, Uttar Pradesh chief minister Yogi Adityanath, railway minister Piyush Goyal and union health minister JP Nadda, along with several other NDA allies were part of the rally.
PM Modi began his roadshow by paying tribute to Pandit Madan Mohan Malviya at his statue outside Banaras Hindu University. The roadhshow, held over a stretch of 6 kms started at Lanka and concluded at the famed Dashashwamedh Ghat.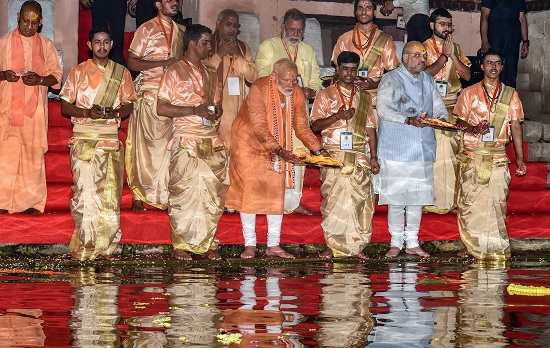 PM Narendra Modi alongwith Amit Shah and UP Chief Minister Yogi Adityanath attended Ganga Aarti. 
Thousands of people thronged to see Prime Minister Narendra Modi during the road show.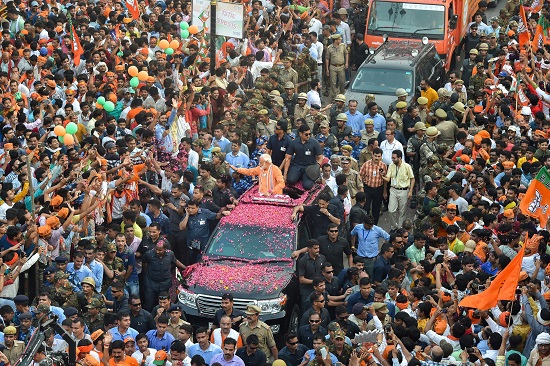 PM Modi waved at the gathered crowd and accepted their wishes and blessings.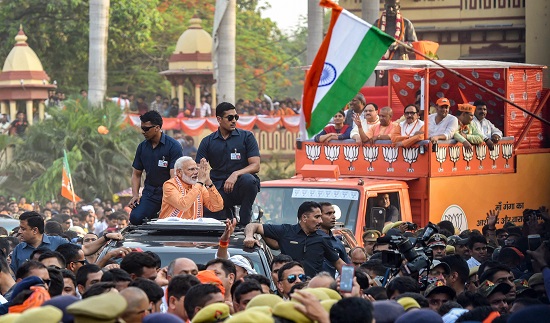 PM's roadshow ended at the ghats of Ganga where the famed Ganga Aarti took place.
The PM then addressed the jubilant crowd.
Thanking people of Varanasi for their continued support, PM Modi told the crowd that he will file nomination papers on Friday.
In his speech, PM Modi touched upon subjects like terrorism, development among others.
Stressing that India has changed in last few years, PM Modi said that "New India" does not cower under the threat of terrorism but gives  a befitting reply to terrorists and those who shelter them.
He concluded his speech with an emphatic "Har Har Mahadev"
Also Read | New India gives befitting reply to terror: PM Modi
Watch | Ganga Aarti at Dashashwamedh Ghat: PM Modi seeks divine blessings in Kashi