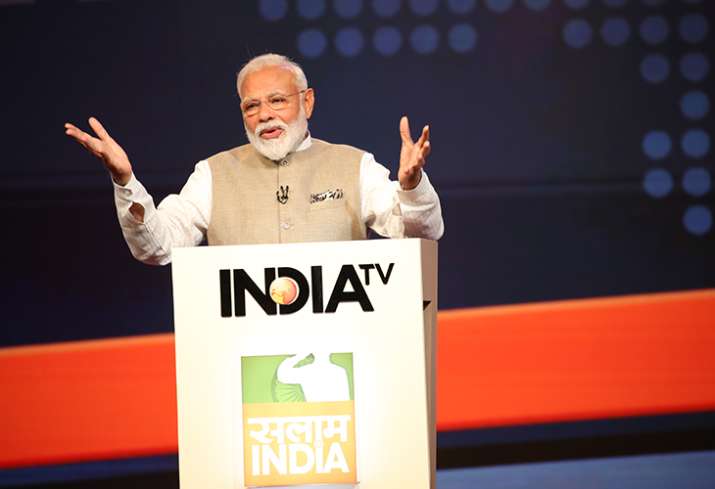 Chants of 'Modi, Modi' enthused the spirit and mood of New Delhi's ​Jawahar Lal Nehru stadium as soon as Prime Minister Narendra Modi made an appearance at the stage.
Dressed in his usual kurta and jacket, PM Modi thanked Rajat Sharma, editor-in-chief and chairman, India TV, for giving him a stage to present his views in front of his 130-crore audience -- in- and outside the stadium.
When asked about why Rahul Gandhi is alleging what he is alleging, the Prime Minister mentioned avengers.
"I've heard that a film 'Avengers' is doing the rounds these days and that people from different planets are a part of that film," Modi said.
"The scriptwriter of the film 'Avengers' must have mentioned a number, specifying the size of the people all over the world, which seems to have leaked to him," PM Narendra Modi said, as he responded to Rahul Gandhi's allegations of selling out land worth crores to a businessman in Gujarat. 
Referring to China President Xi Jinping's 2014 visit to India, Rahul Gandhi had once remarked PM Modi was seemingly "scared" of the former.
To this end, PM Modi told Rajat Sharma: "Aap Kapil Sharma ke show ki script likhtey hain kya? [Do you write the script for Kapil Sharma's show?]"
For the unversed, Kapil Sharma is a stand-up comedian and actor, and runs a TV show on an entertainment channel. He is often credited for reviving the comedy genre in TV shows in India.
"Darr achchha hai"
It is often said that Congress general secretary for eastern Uttar Pradesh Priyanka Gandhi Vadra entered mainstream politics earlier than planned due to PM Modi.
Reacting to this, PM Modi said, "Darr achchha hai."
In the run up to May 23, the day of result of Lok Sabha polls, this is probably the most historic interview of PM Modi -- where he takes on all sorts of questions - from Balakot airstrike to his personal life.
The interaction was interspersed with sounds of 'Modi, Modi' reverberating inside the gigantic stadium.
"'Modi, Modi' -- I heard these words for the first time in 2014. And these two words have now become a slogan in their entirety. This whole phenomenon is a research topic for political pundits," PM Modi said, in response to the chants.
He added, "This slogan has love, expectations and aspirations -- all coupled into one. Initially, I used to enjoy this; but with time, I have come to conclude that I need to sleep even less to fulfill all these expectations."