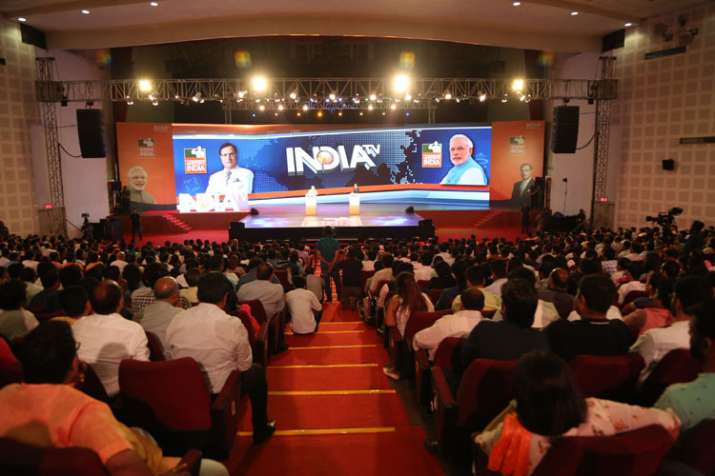 "Main unka aabhaari hoon," Prime Minister Narendra Modi said, in reponse to West Bengal Chief Minister Mamata Banerjee's idea of gifting him with sweatmeat made of mud and mortar.
Mamata Banerjee had made this claim, in a televised interview, in response to PM Modi's declaration that she regularly sends him Bengali laddoo and two-three kurtas every year.
PM Modi said this, in a "non-political" interview with Bollywood actor Akshay Kumar, when asked if he had good terms with leaders from the Opposition.
So, when Rajat Sharma, editor-in-chief and chairman, India TV, asked PM Modi if he would accept the outlandish gift, he said, "Main unka aabhaari hoon. Bengal ka mitti ka rosogulla eik tarah ka prasad hota hai. Bengal ki mitti woh hai Rabindranath Tagore ka chappe chappe par nishaan hai; Netaji Subhash Chandra Bose ki bhoomi hai woh. "Woh mitti ka rosogulla agar mere naseeb mein huya toh mera saubhagya hoga. [I will be grateful to her. [West] Bengal is known because of great personalities like Rabindranath Tagore and Netaji Subhash Chandra Bose. Sweatmeat made of that land's soil will be a blessing. I will be blessed.]"
PM Modi fell on Mamata's wrong side yet again when he claimed as many as 40 Trinamool Congress (TMC) MLAs were in contact with him -- leading to speculation of defection.
TMC leader Derek O'Brien charged him with horse-trading.
To this end, PM Modi said, "I made the statement to let her know her MLAs were unhappy under her rule. And I did help them. They are thanking me for this. I just gave her factual information."
PM Modi, however, was not quite happy with Mamata Banerjee's and the Opposition's new found reverence to temples.
"Vipaksh ka Hinduwaad seasonal karobaar hai. Issey raajneeti toh chal sakti hai, desh nahin. Par agar sach mein kisimein badlaav aa raha hai, toh achchhi baat hai. Main unhein achchhe achchhe mandiron ka address de sakta hoon. Jaayein, [The Opposition's new found reverence to Hindutva is a seasonal thing. It can work for them politically, but the country will suffer because of this,]" he said.
PM Modi further said there was a pro-incumbency wave in the country after so many years.
"For the first time in so many years, there is a pro-incumbency wave in the country. There are no particular issues for the ongoing Lok Sabha polls. And that is a big achievement. This might not make headlines for TV news or newspapers, but it is an achievement," he said.
But what about the united Opposition -- especially, in Uttar Pradesh?
"Mahamilaawat hai [It is Mahamilaawat]. The Mahamilaawat has all sorts of people who have committed all sorts of crimes. Several of them are on bail; or are in jail. And they knew they had to face me. They couldn't face a Yogi [Adityanath, the current chief minister of Uttar Pradesh], and this is Modi. They had to hold hands and form an alliance. Yeh sab bachne ke tareeqey hain. Par inki fitrat aisi hai ki jaise hi aabhas hoga ki bach gaye hain, toh haath chhodkar taang pakdengey aur neechey kheench lengey," PM Modi said.
In the historic interaction with India TV, PM Modi also spoke about the IAF airstrike in Pakistan's Balakot, Congress chief Rahul Gandhi and West  Bengal Chief Minister Mamata Banerjee.