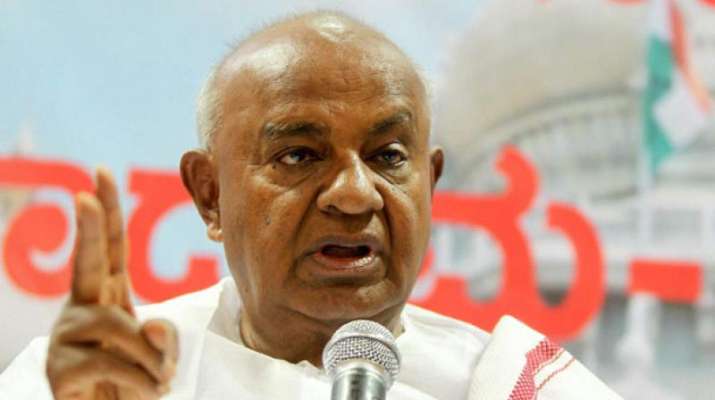 Just a few months before the Lok Sabha elections 2019, former prime minister H D Deve Gowda has said he is not opposed to projecting West Bengal Chief Minister Mamata Banerjee as the Opposition's prime ministerial face.
Asked if he would support the TMC chief as the prime ministerial face of the opposition, Gowda said, "Most welcome if Mamata is projected as PM. Indira Gandhi ruled as prime minister for 17 years. Why should we (men) alone become PM? Why not Mamata or Mayawati?"
Catch all the latest news about Lok Sabha elections 2019 HERE
Gowda (85) noted while the formation of a third front is still in the early stage Banerjee is trying her best to bring all the non-BJP parties together.
However, on Wednesday, Banerjee said her priority was throwing BJP out of power and sought to dismiss talks of her being a Prime Ministerial candidate.
She insisted that she is a simple worker and wanted to continue as a "commoner".
Gowda also said that the JD(S) has not made any effort to unify regional parties so far. He, however, added that the regional party is prepared to cooperate with other parties to fight the BJP.
"It is because there is a sense of fear in the country. There is a suffocating atmosphere for minorities in states like Uttar Pradesh, Bihar and Gujarat. A formidable front is necessary to take on the BJP in 2019," he noted. 
Gowda also made it clear that the Congress and his party will fight together in Karnataka during 2019 general polls. However, the issue of seat sharing has not been discussed yet, he said. Karnataka sends 28 MPs to Lok Sabha.
In 1996, Gowda headed the Janata Dal-led United Front (UF) coalition government but his tenure did not last more than a year.
(With PTI inputs)