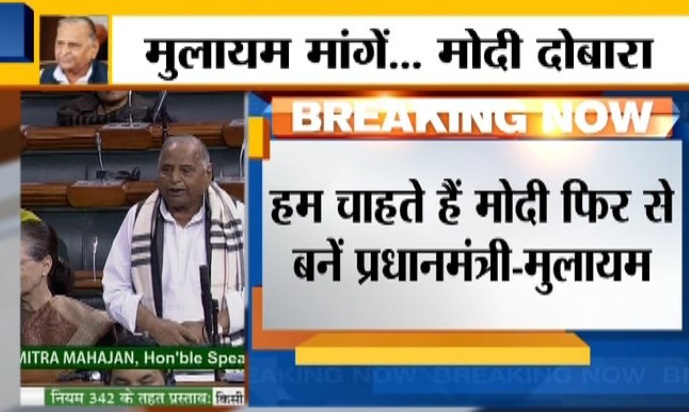 On the last day of Parliament's Budget Session on Wednesday, veteran Samajwadi Party leader Mulayam Singh Yadav issued a statement which could have a major impact on the Opposition's attempt to stitch in a Mahagathbandhan or Grand Alliance to challenge the Bharatiya Janata Party (BJP) in the upcoming Lok Sabha elections.
"PM ko badhaai dena chahta hun ki PM ne sabko saath lekar chalne ki koshish ki hai. Main kehna chahta hun ki saare sadaysa phir se jeet kar aayen, aur aap (PM) dobara pradhan mantri banein (I hope Narendra Modi returns as Prime Minister)," Mulayam Singh Yadav said triggering an instant thumping of desks from the treasury benches. Mulayam complimented his remark with a namaskar to which PM Modi promptly acknowledged with a smile.
Mulayam, who was seated beside former Congress chief Sonia Gandhi, added that he hopes to see the same set of MPs in the next session of Parliament.
Reacting to Samawadi Party patriarch's remark, Congress president Rahul Gandhi said that though he respects the veteran leader, he doesn't agree with what he said.
"I disgree with him. But Mulayam Singh Yadav Ji has a role in politics and I respect his opinion," Rahul Gandhi said during a press conference at party headquarters in New Delhi.
The Samajwadi Party, which is led by Mulayam's son Akhilesh Yadav, has joined hands with Mayawati's BSP in Uttar Pradesh to take on the BJP in the upcoming Lok Sabha elections.
WATCH VIDEO: Hope PM Modi returns as PM, says Mulayam Singh Yadav in Lok Sabha