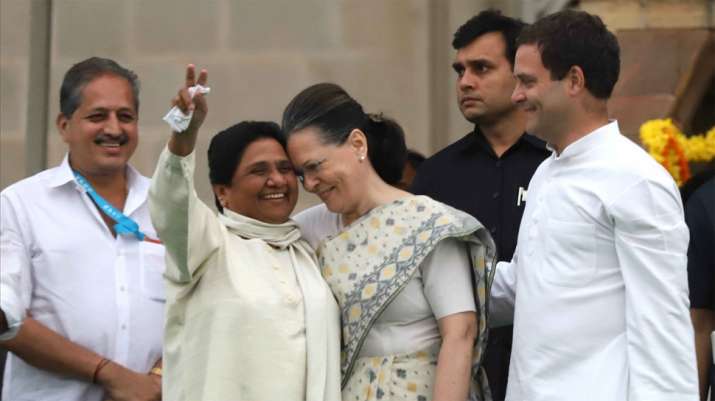 Cracks have begun to appear in the Opposition's bonhomie in the run up to May 23 -- the day of the result of Lok Sabha 2019 polls.
Bahujan Samaj Party (BSP) supremo Mayawati has hit out at the Congress for allegedly threatening her party worker in Madhya Pradesh's Guna to withdraw his candidature. She has also accused Congress of resorting to caste-politics.
Mayawati on Tuesday took to Twitter and said the Congress reeks of its dynastic and casteist mindset when it derides the BSP-Samajwadi Party pre-poll alliance in Uttar Pradesh.
The point to be noted here is the Samajwadi Party ditched Congress to stitch a coalition with the BSP in the politically crucial state of Uttar Pradesh.
Mayawati continued to spew disapproval at Congress' activities and said it would rethink support to the grand old party at the Centre. 
"Sarkaari machinery ke durupyog ke maamley mein Congress bhi BJP se kam nahin hai. MP ke Guna Lok Sabha seat par BSP ummeedwaar ko Congress ne daraa-dhamkaakar zabardasti baithha diya hai. Kintu BSP apne symbol par hi ladkar isska jawaab degi va abb Congress sarkaar ko samarthhan jaari rakhne par bhi punarvichaar karegi," Mayawati wrote in Hindi.
She added, "Saath hi, UP mein Congressi netaon ka yeh prachaar ki BJP bhaley hi jeet jaaye kintu BSP-SP gathbandhan ko nahin jeetna chahiye, yeh Congress party ke jaatiwaadi, sankeern ar dogule charitra ko darshaata hai. Atah, logon ka yeh maanna sahi hai ki BJP ko kewal humaara gathbandhan hi haraa sakta hai. Log saavdhaan rahein."
साथ ही, यूपी में कांग्रेसी नेताओं का यह प्रचार कि बीजेपी भले ही जीत जाए किन्तु बसपा-सपा गठबंधन को नहीं जीतना चाहिए, यह कांग्रेस पार्टी के जातिवादी, संकीर्ण व दोगले चरित्र को दर्शाता है। अतः लोगों का यह मानना सही है कि बीजेपी को केवल हमारा गठबंधन ही हरा सकता है। लोग सावधान रहें।

— Mayawati (@Mayawati) April 30, 2019
The BSP, Congress and the Samajwadi Party are three of the 22 Opposition parties that have been rallying against the BJP-led Central government and have vowed to oust it and Prime Minister Narendra Modi from power.