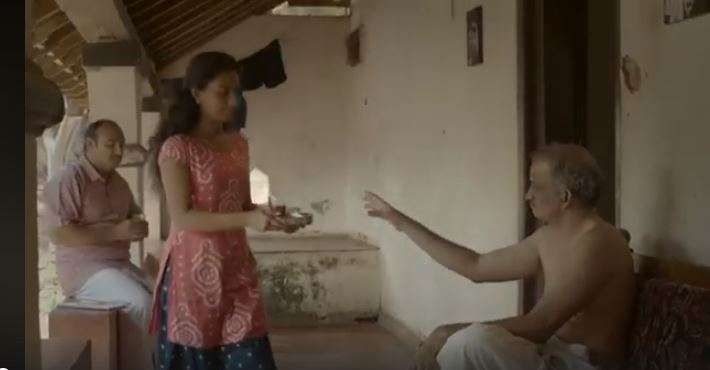 An advertisement, posted by Kerala Congress candidate K Sudhakaran, that pokes fun at the woman MP from Kannur has drawn major flak on the social media.
The video posted by Sudhakaran, on Facebook, has had people calling out his 'evident sexism' and seeking removal of the advertisement.
The 84-second video was uploaded on his Facebook page on April 15.
The video features two men, with one saying how one of his children has been asking for a share of his property. 
Towards the next scene, the man's daughter is seen serving tea to him and his friend, while his son just stomps in, calling out his sister for not completing a certain household chore.
Upon observing the situation, the father tells his friend that his daughter has always been incapable of communicating effectively. He adds it was a waste to educate her and make her a "teacher". The friend then nods in agreement and says that his son was better suited for all this.
The point to be noted here is the woman MP from Kannur, PK Sreemathy -- from Kerala's ruling Left Democatic Front alliance -- is popularly known as PK Sreemathy Teacher.
The advertisement has sparked fury among the Twitterati.
WOW. @RahulGandhi @ShashiTharoor UDF candidate K Sudhakaran ad against LDF candidate Sreemathy Teacher says "vote for the man" since educating women is a waste! Congress believes women shouldn't enter Sabarimala - nor schools, politics, Parliament?! https://t.co/teUZ3hRE50

— Kavita Krishnan (@kavita_krishnan) April 17, 2019
Even by the lowest liberal standards, a comment like the one made by K. Sudhakaran, the INC candidate from Kannur must be condemned by @INCIndia. Especially since gender equality is one of key election planks this time in Kerala in the wake of the Sabarimala situation.

— Siddharth🌹 (@DearthOfSid) April 17, 2019
Btw, I won't ask @RahulGandhi to control his SM team when he cant prevent misogynistic INC guys like K Sudhakaran or his own half-witted self from blurting out blunders. 😂🤣

— Arjun Ramakrishnan (@aju000) April 17, 2019
I really hope that he grows into a strong leader who can put a leash on the sanghi-like misogynistic leaders like K Sudhakaran and Anil Akkara.

But, till then he wont get the benefit of "erring" when he blunders like he did about Kerala's education / healthcare systems.

— Arjun Ramakrishnan (@aju000) April 17, 2019
@RahulGandhi & @INCIndia

Must apologize for K Sudhakaran remarks & take action against him

Or else face the WRATH of WOMEN who BUILT WOMEN'S WALL@ECISVEEP plz take note#AbHogaNyay #LokSabhaElections2019 https://t.co/gYEbf7o52J

— Surabhi GK (@SurabhiSGK) April 17, 2019
Following the video, the Kerala Women's Commission has registered a suo-motu case against Sudhakaran.
This is not the first time the Congress leader has made a sexist remark. He had earlier mocked Kerala Chief Minister Pinarayi Vijayan terming him "worse than a woman".