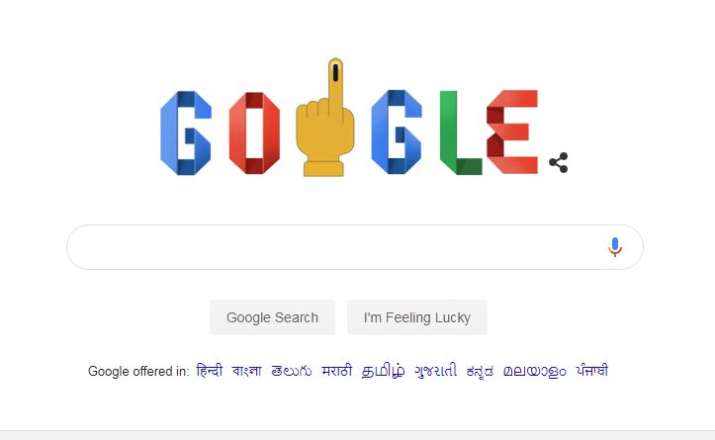 Marking the beginning of the third phase of the Lok Sabha elections 2019, Google India featured an inked finger in its doodle.
The same doodle was also featured in first two phases of polling -- which also provided information about the voting procedure.
Not only does the Google doodle remind the users to vote, but also answers all frequently asked questions related to voting -- like when to vote, where to vote, how to vote, how to get your name on the voters' list, and so on.
When you click on the doodle, it leads you to a quick guide on 'How to vote' during the election.
It goes as follows:
-First, polling official will check your name on the voter list and check your ID proof.
-Second, polling official will ink your finger, give you a slip and take your signature on a register (Form 17A).
-You will have to deposit the slip at the third polling official and show your inked finger and then proceed to the polling booth.
-Record your vote by pressing the ballot button opposite the symbol of the candidate of your choice on the Electronic Voting Machine (EVM); you will hear a beep sound.
-Check the slip that appears in the transparent window of the VVPAT machine. The slip with the Candidate serial No., Name and Symbol shall be visible for 7 seconds before it drops in the sealed VVPAT box.
-You can press NOTA, None of the Above, if you don't like any candidate; it's the last button on the EVM​.
-For more information, please see the Voter Guide on http://ecisveep.nic.in/
The third phase will see all constituencies of Gujarat and Kerala going for the polling process.
The voting process started on April 11 and will continue till May 19, 2019.
The counting of votes and declaration of the results would be on May 23, 2019.