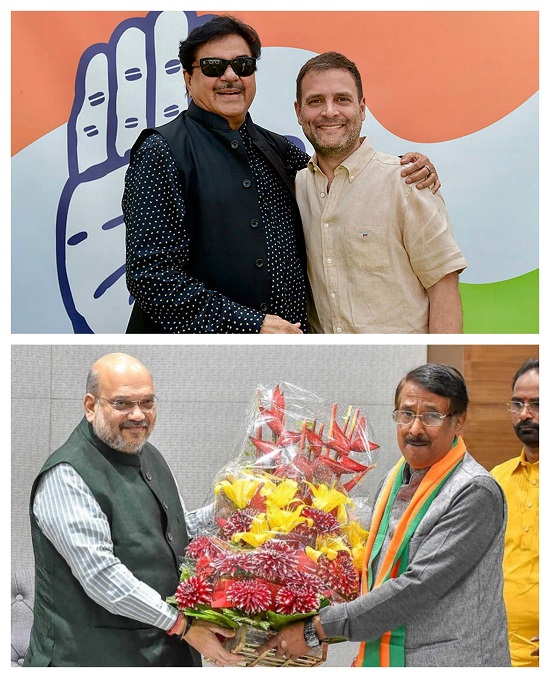 Year 2019 will once again see the worlds largest democracy go to vote and with the model code of conduct now into order all the political parties have started playing their cards. Amongst all the plotting and planning though, once again , the turncoats have taken the limelight. Wether it's the two time BJP MP Shatruganj Sinha joining the Congress party or Tom Vadakkan, a long time Sonia Gandhi loyalist go the other way around, these people have a massive potential to shape the upcoming elections.
Here are some of the major turncoats to have tampered with the political status quo in the recent past.
Shatrughan Sinha
An actor turned politician, Shatrughan Sinha has been a BJP leader for a good part of 3 decades. He has been a 2 time member of parliament and recently switched sides to join Congress after the BJP cancelled his ticket from Patna Sahib Singh in favour of Union Minister Ravi Shankar Prasad. The award winning actor met the Congress President Rahul Gandhi on 28th March to officially join the Congress party.
Tom Vadakkan
A long time Congress leader and Sonia Gandhi loyalist Tom Vadakkan unexpectedly quit Congress recently saying that he was disappointed by the response of the Congress leadership to the Balakot Airstrikes and how their actions compromised the national interest. He was launched by the BJP strongholds like Ravi Shankar Prasad and Amit Shah soon after.
Manish Khanduri
At a Congress rally in Dehradun, senior BJP leader Bhuwan Chandra Khanduri's son Manish Khanduri joined the grand old party in the presence of party president Rahul Gandhi. Welcoming him into the party fold, Gandhi said him joining the Congress will strengthen the party. Speculation is rife that the Congress might field Manish Khanduri from Pauri, a Lok Sabha seat held by his father.
Balabhadra Majhi
Biju Janata Dal (BJD) Lok Sabha member, Balabhadra Majhi who had resigned from the party claiming that he was "ignored and cheated", joined BJP recently. Union Minister D Pradhan said, "Since Balbhadra ji is from railway background, he had developed a unique model by bringing together centre and state. You had given him the credit of enabling railway connectivity in Nabarangpur and Malkangiri. His party left him, he joined Modi Ji. We welcome him."
Ram Prasad Sarmah
In a jolt to the BJP in Assam, its sitting MP from Tezpur Ram Prasad Sarmah announced that he quit the saffron fold and alleged neglect of old workers by "new intruders in the party". Sarmah said he was resigning from the primary membership of the BJP after serving the RSS and VHP for 15 years and the BJP for 29 years.
"I have left BJP today. I really feel pained in my heart for those old BJP workers of Assam who are most neglected in the party by the new intruders in the party," he said in a Facebook post.
Devi Singh Bhati
Devi Singh Bhati from Bikaner also left BJP citing anti-party activities as a reason. He said, "I've resigned due to anti-party activities of Bikaner MP, Arjun Ram Meghwal. I told about this to all senior party leaders but it seems they have made up their mind to give him the ticket again."
Hardik Patel
Another notable name to Switch political parties is Hardik Patel. Being one of the major players in BJP's success in Gujrat, Patel's inclusion could give congress a big boost in the upcoming elections.
Sukh Ram
Former Union minister Sukh Ram rejoined Congress along with his grandson Aashray Sharma ahead of the Lok Sabha polls, calling it a homecoming. 93 year old Sukh Ram returns to congress after he had joined BJP in 2017 before the assembly elections.
Others
Trinamool MPs Saumitra Khan and Anupam Hazra joined the BJP after being expelled from the party. The major inductions into the Congress include rebel BJP MP Kirti Azad, former Telecom Minister Sukh Ram and his grandson Ashray Sharma, outgoing BJP Lok Sabha MP from Bahraich Savitri Bai Phule and former SP member of Parliament Rakesh Sachan.