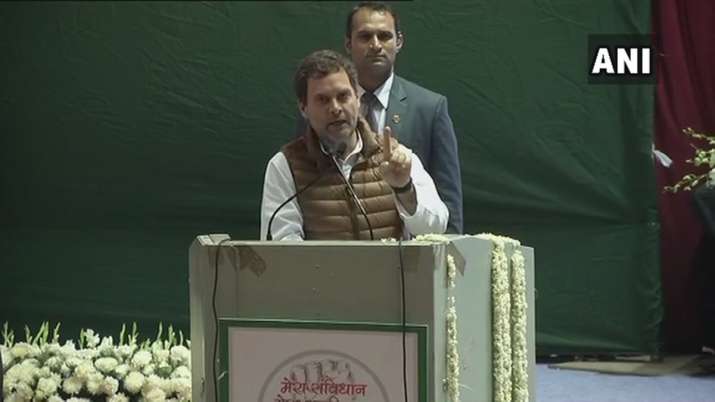 Congress president Rahul Gandhi on Thursday came out all guns blazing at the Bharatiya Janata Party (BJP) and the Rashtriya Swayamsevak Sangh (RSS).
He alleged that the RSS wants to end the Constitution of India.
"The RSS wants to end the Constitution of India. The BJP wants to end the Constitutional institutions," ANI quoted Congress president as saying during AICC's minority department national convention.
"The institutions in India do not belong to any party, they belong to the country, and to protect them is our responsibility, be it Congress or any other party. They (BJP) think they are above the nation, in 3 months they will understand that nation is above them," he added.
He also attacked BJP chief Amit Shah.
"Amit Shah is not allowing the court to work," stressed Gandhi.
While attacking Prime Minister Narendra Modi, Rahul Gandhi said in Lok Sabha elections 2019, Congress party will defeat Narendra Modi, BJP and RSS. 
"Make PM Modi stand with me on stage for 10 minutes and debate on national security, he will run away. I know PM Modi's character after fighting him for 5 years, he is a coward. When someone stands up to him, he runs away," said Rahul Gandhi.
#WATCH Rahul Gandhi: I challenge the BJP, let Narendra Modi ji debate with me for 10 minutes on stage. He is scared, he is a 'darpok' person. pic.twitter.com/tjr1qkPI5l

— ANI (@ANI) February 7, 2019