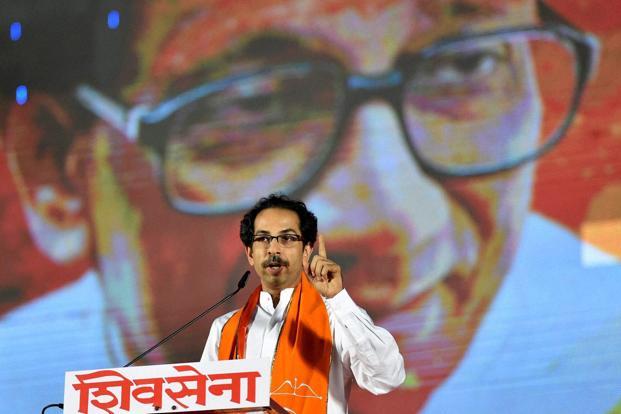 BJP ally Shiv Sena on Tuesday questioned what it termed as the brazen use of money power in elections and accused Bharatiya Janata Party (BJP) of doing nothing to stop corruption.
"Look at the blatant use of money power in elections. Never before has such money power been witnessed in India in over 50 years, for winning every election, right from Gram Panchayats to the Lok Sabha," Sena president Uddhav Thackeray said.
Training guns on the BJP, he said they were talking of corruption in the country since past 60 years but had done nothing to tackle it during their four years in power since 2014.
Catch all the latest news about Lok Sabha elections 2019 HERE
Thackeray's sharp comments came during the course of his annual marathon interview ahead of his 58th birthday on July 27, with party Rajya Sabha MP Sanjay Raut.
Catch all the latest news about Lok Sabha elections 2019 HERE
"Remember the 2G scam? It was blown up not only in India but all over the world. It conveyed a horrible impression depicting India as the most corrupt nation on earth. Nobody realized it, but we ourselves ruined our own country's image. But then, what happened? They failed to prove even a single charge and everything remained mere allegations," Thackeray said.
Despite being in the government with the BJP in the Centre and in Maharashtra, the Sena has been extremely critical of its ally, Prime Minister Narendra Modi, BJP President Amit Shah and others and constantly attacked them for claiming they had unleashed a war on corruption.
"The present government is not serious about the fight against ... corruption. This is the thought in the people's minds now. Every time somebody does good work, he is accused of corruption and blamed if he doesn't perform. First prove corruption, don't just tarnish people with such allegations. You cannot fling mud at others with one hand and flee with the the lotus in the other," he said sarcastically.
He said the source of all this money used in elections was a mystery and nobody knew from where such huge amounts were flowing down. "Otherwise all other political parties could have also benefitted," he added in a lighter vein.
It may be recalled that during the no-confidence motion against the Modi government, Shiv Sena said there was a "mistake" in issuing the whip to its MPs asking them to be present in the Lok Sabha during the no-confidence motion and vote for Modi government. 
"There was a mistake. No such whip could be issued by the chief whip when a decision (on no-trust motion) was not even taken then," a Sena source told PTI on Friday. 
Sena in a three-line whip issued on the letter head of the party on July 18 had asked the party lawmakers to support the NDA government during the no-trust motion. 
Hours after issuing the whip, the Sena shifted its stance and said party chief Uddhav Thackeray had asked his party MPs to remain in Delhi and a final decision on supporting the Modi government would be taken on Friday morning before the debate started. 
It is pertinent to mention here that Sena's flip-flop on supporting Modi government came at a time when less than a year left for the Lok Sabha elections 2019.
(With inputs from agencies)