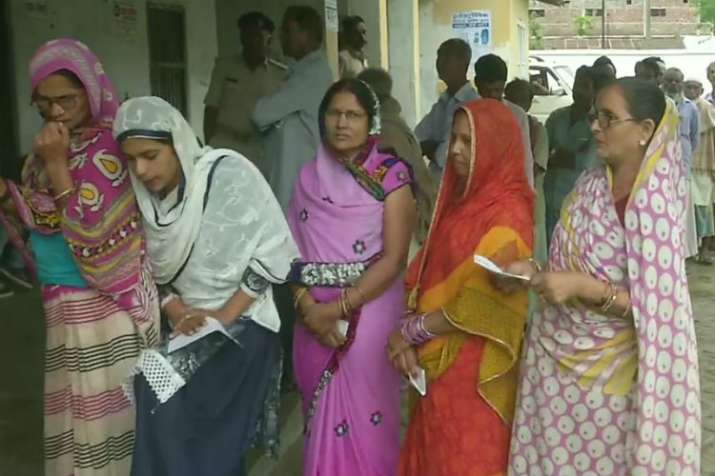 An estimated 9.35 per cent of over 89 lakh electorate in Bihar exercised their franchise in the first two hours of polling during the third phase of polling in five Lok Sabha seats, an election official said.
According to the figures released by the office of the Chief Electoral Officer (CEO) Bihar, Jhanjharpur recorded the highest turnout at 11.50 per cent followed by Araria at 10 per cent, Madhepura 8.75 per cent, Supaul 8.30 per cent and Khagaria 8 per cent.
"Polling has been peaceful with no untoward incident reported from any of the constituencies so far," Additional Chief Electoral Officer Sanjay Kumar Singh said.
Polling is underway in Jhanjharpur, Supaul, Araria, Madhepura and Khagaria constituencies.
Voting was hampered at two polling stations in Khagaria and three booths in Jhanjharpur due to EVM malfunctioning, official sources said.
The prominent candidates in the third phase include Sharad Yadav, Bihar minister Dinesh Chandra Yadav, former Bollywood set designer and VIP chief Mukesh Sahni and sitting MPs Ranjeet Ranjan, her husband Rajesh Ranjan alias Pappu Yadav, Sarafaraz Alam and Mehboob Ali Kaiser.
A total of 82 candidates, including fiven women, are in the fray.
Central para military forces, Bihar Military Police, special auxiliary police personnel have been deployed outside 9,076 polling stations across the five seats where 57,800 poll personnel have been deputed.
A total of 2,940 micro observers have been deployed for ensuring fair and peaceful polling.
Voting will end at 6 PM in all the booths except three assembly constituencies of Alauli, Beldaur and Simri Bakhtiarpur, falling under Khagaria Lok Sabha seat, where polling will end at 4 PM.