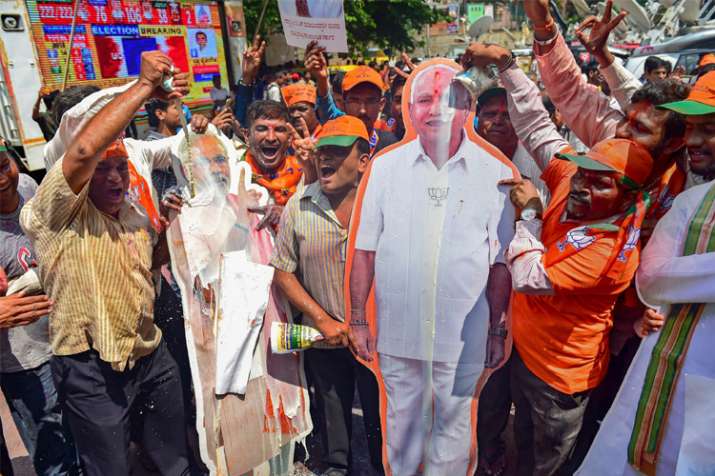 In a rare pre-dawn hearing which saw the Congress-JD(S) combine making a last-ditch attempt to stop the BJP from forming government in Karnataka, the Supreme Court today refused to stay saffron party leader B S Yeddyurappa's swearing-in as Chief Minister. 
The apex court, which commenced the hearing at 2.11 AM and ended at 5.28 AM, however made it clear that the swearing-in and the government formation in the state would be subject to the final outcome of the case before it. 
A special bench comprising Justices A K Sikri, S A Bobde and Ashok Bhushan directed the Centre to place before it two communications, sent by Yeddyurappa to Governor Vajubhai Vala in which he had staked claim to form the government, saying their perusal was necessary to decide the case. 
The top court also issued notices to Karnataka government and Yeddyurappa seeking their replies on the plea filed by Congress-JD (S) combine and posted the matter for hearing at 10:30 am on Friday.
The order came hours before the swearing-in ceremony in Bengaluru, where 75-year-old Yeddyurappa is slated to become chief minister of the state for the second time, even as the Congress-JD(S) combine has been claiming a majority with support of 117 MLAs, against BJP's 104. 
The petition was filed late on Wednesday night after Governor Vala invited Yeddyurappa for an oath taking ceremony on Thursday at 9 a.m. and gave him days to prove his majority in the legislative assembly.
The Congress and the JD-S, who formed a hurriedly stitched post-poll alliance after a hung assembly verdict to claim a majority of 116 members in the new assembly, called the Governor's decision "unconstitutional".  
Here is a quick glance at the series of events unfolded right after governor's invitation to BJP's BS Yeddyurappa to form government in Karnataka and prove the majority on the floor of the House in 15 days -
1. Watch Video: When Karnataka Governor invites BJP's BS Yeddyurappa to form government
2. Watch Video: BS Yeddyurappa's oath taking at 9am on Thursday, Congress fumes 
3. Watch Video: Congress files affidavit in SC for urgent hearing against Guv's decision
4. Watch Video: Congress moves SC against Guv's decision, urges for midnight hearing
5. Watch Video: SC accepts Congress' plea against Governors' decision to invite Yeddyurappa
6. Watch Video: 3-Judge SC Bench formed to hear the Congress' plea
7. Watch Video: Congress' lawyer Abhishek manu Singhvi reaches Supreme Court
8. Watch Video: SC refuses to stay BS Yeddyurappa's oath taking as CM at 9 am on Thursday