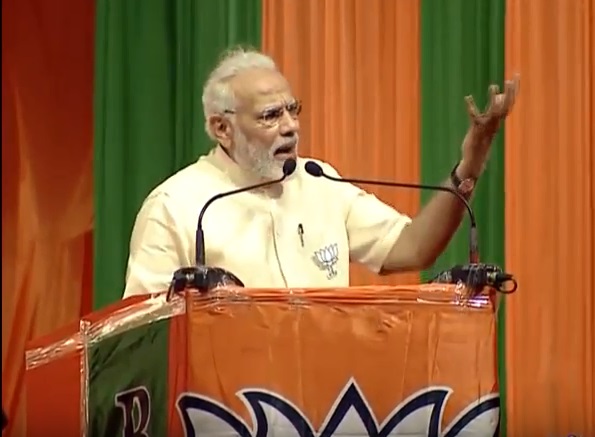 Prime Minister on Sunday addressed four public meetings in poll-bound Karnataka. The rallies were held in Hubli, Chitradurga, Bagalkot and Raichur. Earlier in the day, PM Modi, while addressing a rally in Chitradurga, accused the Congress of distorting history as part of a conspiracy to divide society, and flayed the Siddaramaiah government in Karnataka for celebrating the "jayantis of Sultans" for the sake of "vote bank politics". 
Meanwhile, party president Amit Shah addressed a public meeting in Belgavi district, which will be followed by a visit to Saundatti Yellamma temple. He will then hold two roadshows, followed by another rally at Belagavi at 6:00 pm.
Yesterday, PM Modi went on an all-out attack against the Congress, saying the party whose flag once fluttered "from Panchayat to Parliament" will become "Punjab, Puducherry, Parivar" Congress after its impending defeat in Karnataka.
With the D-day for the polls drawing closer, Modi upped the ante against the Siddaramaiah government, alleging it has become a "corruption tank" for the Congress with a pipeline connected to Delhi, "where the money reaches directly".
AS IT HAPPENED:
Highlights of PM Modi's public meeting in Hubli
7:13 pm: We opened up Pradhan Mantri Jan Aushadhi Kendras to provide affordable medicines, reduced the prices of stents, brought the Ayushman Bharat Yojana so that the vulnerable families get health assurance: PM
7:12 pm: Youth in villages should benefit from long-distance education, farmers should get information digitally. That is why we are giving impetus to the Digital India drive and connecting India's villages through optical fiber network: PM
7:10 pm: There were around 18,000 villages which did not have electricity since independence. We ensured power to all such villages in a time frame of just 1000 days. Now through the Saubhagya Yojana, we want to ensure power supply in every household: PM
7:08 pm: We want to build a New India where children get good education, youth get jobs, elderly get proper healthcare and where there is no discrimination on the lines of caste: PM
7:04 pm: Congress President and Smt. Sonia Gandhi Ji must answer people why they are out on 'Zamaanat': PM
7:00 pm: Congress leaders are caught with large stashes of cash and when our Government takes action, they keep on saying that Modi is vindictive: PM 
Highlights of PM Modi's public meeting in Bagalkot​
4:47 pm: I do not understand why the Congress mocks noble initiatives like Beti Bachao, Beti Padhao, building toilets and other welfare measures being undertaken for women: PM
4:44 pm: We are committed to give impetus to the textile sector in Karnataka. We have also come up with a SAATHI scheme for the weaver community: PM 
4:40 pm: I urge people of Bagalkot to ask a question to the present Karnataka CM. Ask him about his promise of Textile Parks. Ask him what happened to that promise. Is there a single Textile Park here? He did not fulfill his promises: PM 
4:37 pm: Look at the plight of sugarcane farmers in the Karnataka. The Congress government and the present Chief Minister is insensitive towards them. They did nothing for their welfare: PM​
4:35 pm: To ensure farmer welfare, we have brought the most comprehensive Pradhan Mantri Fasal Bima Yojana, says PM Modi
4:32 pm: Look at the plight of sugarcane farmers in the Karnataka. The Congress government and the present Chief Minister is insensitive towards them. They did nothing for their welfare: PM​
4:30 pm: People of Karnataka are well aware of Congress' thinking towards Bhagwaan Basaveshwara. They are only recalling His name as elections are nearing. It was during Atal Ji's leadership, that a statue of Bhagwaan Basaveshwara was put up in the Parliament: PM​
​4:27 pm: I urge people of Karnataka to remain vigilant and beware of the divisive politics of the Congress. We will not accept any division of Karnataka on the grounds of caste: PM Modi
4:25 pm: In a democracy, to win or to lose is a part of elections. One must accept their defeat. But the Congress are 'Naamdaars'. They did not congratulate us, the 'Kaamdaars'. Such is their arrogance that they even did not pay a courtesy call to the President upon his win: PM​
4:22 pm: Shamelessly the Congress questions the valour of our armed forces when they conducted the surgical strikes: PM Modi
4:20 pm: We are proud of all those who sacrificed their lives for our country but sadly, a few people feel uncomfortable when they hear the National Song: PM 
Highlights of PM Modi's public meeting in Raichur
​
02:21 pm: It's but natural for the Congress to be troubled because we plugged leakages and prevented Rs 80000 crore from getting diverted to the corrupt: PM
02:20 pm: When Sonia Gandhi's government was in power, LED bulb used to be sold at Rs 350. Now in our government, the bulb are being sold at Rs 50. Where were the extra Rs 300 spent: PM Modi in Raichur
02:11 pm: Congress did not let OBC bill pass in Rajya Sabha. It's anti OBC and anti dalit and hence they need to be punished for their actions: PM 
​02:10 pm: Congress had an eco-system of looting. Jan Dhan-Aadhaar and Mobile number (JAM) trinity of our government has stopped leakages. No wonder Congress is angry on me & abusing me. Congress is worried that if we come to power in Karnataka, they will face difficulty in looting the poor.
​02:06 pm: Congress owes an explanation to the nation on why it is not letting Parliament function. Anti-Dalit & anti-OBC mindset of the Congress is the reason why the party is stalling Parliament & not allowing the creation of the OBC commission
​02:04 pm: The Congress has been wiped off every corner of the country. Now, it's Karnataka's turn: PM Modi
​02:00 pm: The Karnataka Government must give an account of the work they have done for the people of the state. Instead all they do is- Modi, Modi, Modi. They just keep abusing me: PM Modi
​01:56 pm: It's the right time to bid farewell to Congress party which opposes Modi on every issue : PM
​01:53 pm: The Karnataka polls are about the future of the state. On one side, there is the BJP's development agenda and on the other side is the anti-development Congress
​01:50 pm: Raichur is a land of learning, culture and civility. Congress has picked up none of these virtues. If they had learnt from the land of Raichur, they would not be dividing Karnataka : PM
​01:47 pm: When I first visited Raichur in 1991, I got the opportunity to address a sabha at 3 AM. The stadium was packed to capacity just the way it is now: PM 
01:45 pm: There are many people who are sitting in AC rooms and saying there will be a hung assembly. I want to tell them- come here to Raichur and see the mood on the ground : PM​
Highlights of PM Modi's public meeting in Chitradurga 
11:56 am: Give a farewell to the Congress, which is not concerned about your welfare: PM
11:54 am: When I heard about Congress corruption in providing beds for hostels, I was intrigued. I asked why are Congress leaders so concerned with beds. Then someone told me - Congress leaders need these beds because they hide so much money beneath these beds, as one Minister has done: PM
11:51 am: Congress leaders in Karnataka are looting the state. The longer they stay, the longer they will loot: PM
11:50 am: The BJP will focus on housing for the tribal communities of these areas: PM Modi
11:49 am: I want to assure dalits and deprived that I am one of them. I am committed to your welfare and  security: PM
11:45 am: Ours is a compassionate government, devoted to serving society with great diligence: PM Modi
11:45 am: From 1992 to 2014, 57 camps were held for Divyang sisters and brothers. After 2014, the number stands at over 5,000 camps: PM
11:44 am: Nijalingappa ji, the proud son of this land was insulted by one family who cannot tolerate independent leaders emerging in the Party. Nijalingappa ji committed the crime of questioning some of the policies from the time of Pandit Nehru: PM
11:41 am: We were fortunate enough to elect a dalit as the president of India: PM
11:37 am: Congress is obviously uncomfortable today because the highest offices of the land are occupied by people from poor and humble backgrounds. That is why now Congress prefers to mislead in the name of the Dalit community : PM 
11:35 am: When we had the numbers to play a key role in the election of a President, we did not play party politics. We preferred that Dr. Kalam become the President of India. This time, we had the numbers but we preferred that a person from the Dalit community become the President : PM
11:34 am: Go to any part of India- wherever you go, things are named after one family. What did this one family do for Dr. Ambedkar? They have no time for him: PM
11:29 am: Congress humiliated Dr. Babasaheb Ambedkar. They never accepted Dr. Ambedkar : PM Modi
11:28 am: It is in the nature of Congress to insult very senior leaders: PM 
11:25 am: Sadly, Congress forgot brave women and men of our history. Just because of vote bank politics, they are celebrating Jayantis of Sultans. Congress has insulted the people of Chitradurga : PM
11:21 am: Congress keeps chanting about the poor to win elections but since a poor man's son become prime minister their time to cheat people has ended: PM
11:19 am: It is a matter of great pride that the preparation for mission Chandrayan 2 is going on this soil by ISRO unit of Chitradurga : PM
11:18 am: Chitradurga is soon going to become hotspot of science and technology: PM
11:14 am:  This land of Chitradurga is synonymous with the Mantra of - Jai Jawan, Jai Kisan and Jai Vigyaan. This land is prone to drought but the farmers here have been innovating and turning adversities into opportunities : PM 
On Saturday, addressing an election rally in Tumakuru, Modi alleged that the Congress and JD(S) have entered into a "secret" pact for the Karnataka polls. 
"If anyone is protecting the Congress, it is the JD (S).... Congress and JD(S) have a secret understanding... an understanding behind the curtains," he said.  
PM Modi is scheduled to address a total of 21 public meetings in the state in the run-up to the Assembly elections.
According to the state Chief Electoral Office, 2,655 candidates are fray for the May 12 Assembly polls, which is expected to set the mood for the 2019 Lok Sabha elections. 
Polling will be held in a single phase for all the 224-Assembly constituencies in the state, including 36 reserved for the Scheduled Castes (SCs) and 15 for Scheduled Tribes (STs). Counting of votes will take place on May 15.