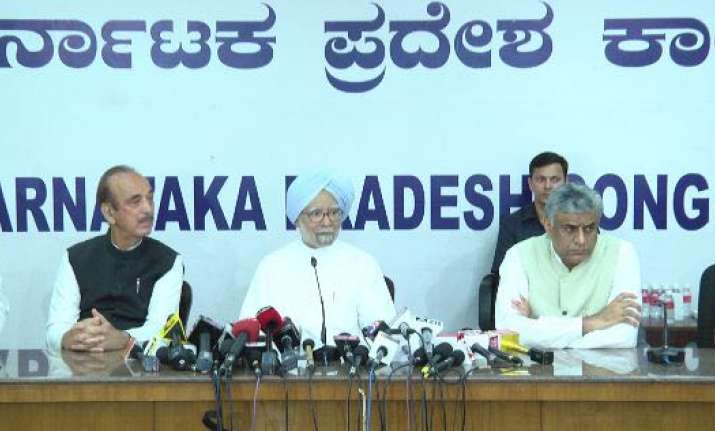 Former Prime Minister Manmohan Singh on Monday trained his guns on Narendra Modi government for alleged economic mismanagement. In the backdrop of Karnataka Assembly elections due on May 12, the ex-PM accused Modi government of slowly eroding the trust of the people in the banking system. 
"The economic management of Modi government is slowly eroding the trust of the general public in the banking system. Recent incidents which resulted in the shortage of cash in many states were preventable," Singh told media at a press conference in Bengaluru today. 
The senior Congress leader also brought up the Nirav Modi matter and said that his escape days after attending Davos summit with Modi reflects a sad state of affairs. 
"As far as Nirav Modi is concerned, it was obvious that in 2015-16, that something is going around with the affairs of Modi. Yet the Modi government didn't do anything. If blame has to be cast, it has to be on the government of mandate."
"In fact, the PM was in Davos in the company of Nirav Modi and only a few days later he ran away from the country. That itself is the reflection of a sad state of affairs in this wonderland of Modi government," Manmohan Singh said.
The former PM further alleged that the country's growth rate under NDA government was lower than UPA regime despite favourable conditions. 
"Growth rate under NDA is lower than UPA despite favourable global conditions and changes in calculation methods. Two major avoidable blunders of Modi govt have been demonetisation & hasty implementation of GST. Losses the economy suffered due to these blunders have severely hurt our micro small & medium enterprise sector & have resulted in the loss of tens of thousands of jobs," he said.
LIVE: Former Prime Minister Dr. Manmohan Singh addresses a press conference in Bengaluru. https://t.co/K8BJBwEywv

— Congress (@INCIndia) May 7, 2018
Singh also blamed Modi government for a reduction in job opportunities in India. "True leadership creates opportunities, it does not destroy them," the former PM said.
Manmohan Singh also defended incumbent Karnataka Chief Minister Siddaramaiah against Modi's attacks during poll trail, accusing the PM of low blows. 
"Shri Siddaramaiah has provided a dynamic and progressive leadership to Karnataka. He has dealt with the draught effectively and provided timely assistance to farmers. We hope PM Modi will learn and implement development lessons from the state," he said.
Singh added, "No PM in our country has used the Office of the Prime Minister to say things about his opponent that Mr Modi has been doing day in and day out. It doesn't behave a Prime Minister to stoop so low and it is not good for the country as a whole as well."