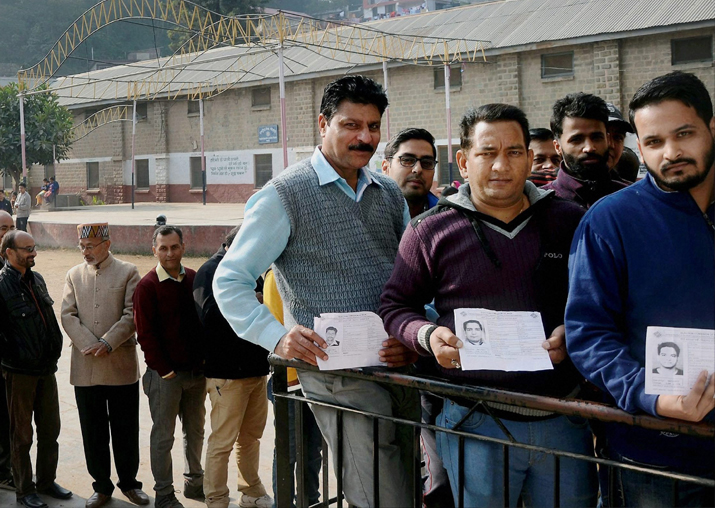 Polling across all 68 assembly constituencies in Himachal Pradesh ended today peacefully at 5pm. According to the EC's data, till 4pm, 64.8 per cent polling has been recorded. 
Voters across the state started reaching polling stations even before polling started at 8 am despite the cold in the single phase election.
A total of 337 candidates, 19 of them women, are in the fray. There are 112 Independent candidates.
The main contest is between the ruling Congress and the BJP. The Congress has projected incumbent Chief Minister Virbhadra Singh as its chief ministerial candidate, while Prem Kumar Dhumal is the BJP's. Both are contesting the elections. Both Singh and Dhumal cast their votes along with family members at their hometowns Rampur and Samirpur, respectively.
The Congress and the BJP have fielded candidates on all 68 seats, while the BSP and the CPI-M have fielded 42 and 14 candidates respectively.
The Hikkim polling station in Lahaul-Spiti district, the country's highest polling booth at 14,567 ft, has 194 voters. The minimum number of voters - six - are at Kaa village in Kinnaur district.
The vote count will be held on December 18 along with Gujarat.
Highlights:
5 pm: 74% voting recorded till now in Himachal Pradesh, likely to go up: ECI
Polling time in #HimachalPradeshElections ends; visuals from a polling station in Mandi. pic.twitter.com/QZaSJiy3Bn

— ANI (@ANI) November 9, 2017
India's oldest voter Shyam Saran Negi cast his vote in Kinnaur, says everyone must work in the nation's interest. #HimachalPradeshElections pic.twitter.com/l8FDL98cMg

— ANI (@ANI) November 9, 2017
4 pm: 64.8 polling recorded 
2:40 pm: 54.09 per cent polling recorded till 2 pm.
Right before his wedding, a bridegroom casts his vote at a polling booth in Manali's Baashing village #HimachalPradeshElections pic.twitter.com/a2zYx0jQCk

— ANI (@ANI) November 9, 2017
12:38 pm: 28.6 per cent polling recorded till 12 noon 
11:20 am: Shimla district recorded 18 per cent polling, Hamirpur 17 per cent, Chamba 12 per cent, Kangra 14 per cent, Mandi 16 per cent, Una, Hamirpur and Bilaspur 15 to 20 per cent and Solan and Sirmaur 18 to 20 percent.
#HimachalElections2017 Union Minister JP Nadda casts his vote at a polling booth in Bilaspur pic.twitter.com/wt7a9jrJr0

— ANI (@ANI) November 9, 2017
11:05 am: Polling started on a dull note for 68 Assembly seats in Himachal Pradesh with 13.72 per cent voters exercising their franchise in the first two hours.
10:50 am: 13.72 per cent polling recorded in first two hours.
#HimachalPradeshElections Virbhadra Singh and his son Vikramaditya cast their votes at a polling booth in Shimla. Virbhadra Singh says the Congress party will be victorious with full majority pic.twitter.com/CKm4rxorbo

— ANI (@ANI) November 9, 2017
10:00 am: Congress' Virbhadra Singh and BJP's Prem Kumar Dhumal cast their vote.
Hamirpur: BJP's chief ministerial candidate Prem Kumar Dhumal and BJP MP from Hamirpur Anurag Thakur cast their votes. #HimachalPradeshElections pic.twitter.com/pNxe6IzYu0

— ANI (@ANI) November 9, 2017
09:35 am: Confident of getting majority in the election, the next government too will be of Congress: Virbhadra Singh
09:28 am: Time has come, people have made up their mind to get rid of Congress who has looted Himachal Pradesh. The state needs a senior leader like Dhumalji to look at the affairs of Himachal which is under the debt of more than Rs 50,000 crore, says BJP MP from Hamirpur, Anurag Thakur
WATCH VIDEO | BJP will win more than 60 seats in Himachal Polls, says Prem Kumar Dhumal
09:04 am: We aimed to get 50 plus seats but now that we are receiving so much support from all sections of the society, we expect it to cross 60: BJP's CM candidate Prem Kumar Dhumal
WATCH VIDEO | Polling for all the 68 constituencies begins in Himachal Pradesh
08:40 am: Voting at polling station number 55 in Kinnaur, Reckong Peo has not yet started due to a technical glitch.
Polling underway in all the 68 constituencies of #HimachalPradesh, people cast their votes at a polling booth in Shimla's Rampur pic.twitter.com/FmqglALAw1

— ANI (@ANI) November 9, 2017
08:00 am: Polling for all 68 constituencies begins in Himachal Pradesh assembly elections​.
#HimachalElections2017 Voters queue up to cast their votes at a polling booth in Dharamshala. pic.twitter.com/Z8nfe5g6ID

— ANI (@ANI) November 9, 2017
07:00 am: PM Modi urges people to cast vote in record numbers.
आज देवभूमि हिमाचल प्रदेश में मतदान का दिन है। मेरी विनती है कि सभी मतदाता लोकतंत्र के महापर्व में भाग लें और भारी संख्या में मतदान करें। Urging people of Himachal Pradesh to vote in recrod numbers.

— Narendra Modi (@narendramodi) November 9, 2017
06:40 am: Chief Minister Virbhadra Singh, 10 ministers, eight Chief Parliamentary secretaries, Deputy Speaker Jagat Singh Negi, former chief minister Prem Kumar Dhumal and over a dozen former ministers are among those who have thrown their hat in the ring.
Elderly woman, Barfi Devi, casts her vote at polling booth number 7 in Samirpur #HimachalPradesh pic.twitter.com/2TILgQi2Pk

— ANI (@ANI) November 9, 2017
06:37 am: For almost two decades, both the BJP and the Congress in the state have fought almost every Assembly and Lok Sabha polls under the leadership of Congress leader and incumbent Chief Minister Virbhadra Singh and BJP's Prem Kumar Dhumal.
06:34 am: "This time, Virbhadra Singh is fighting on two fronts -- one is to establish his son Vikramaditya Singh, who is contesting his maiden assembly election, and the second is to ensure the party's repeat as he forced the Congress to announce him as the Chief Ministerial candidate despite all odds," a political observer  said.
06:30 am: For Dhumal, it's simply the battle for "self-survival" after facing a humiliating defeat in the 2012 assembly polls.
06:22 am: Elaborate arrangements have been made for ensuring free and fair polls and 29 general, three police, 22 Expenditure Observers and 71 Assistant Expenditure Observers, 1,561 Micro Observers, besides, 193 Sector Magistrate and 789 Sectors officers have also been deployed throughout the state.
WATCH VIDEO | Virbharda Singh: Allegations against me are baseless, people will vote for Congress
06:18 am: Besides 17,850 personnel of police and Home Guards and 65 companies of central paramilitary force have been deployed, Chief Electoral Officer Pushpender Rajput said.
06:17 am: As many as 7,525 polling booths have been set up in the state and 37,605 polling personnel have been deputed for poll duty.
06:15 am: The CPI-M has fielded candidates on 14 seats while the Aam Aadmi Party (AAP), which made its debut in the hill state in the 2014 Lok Sabha election, has preferred to stay away.
06:14 am: Political observers say the contest between the Congress and the Bharatiya Janata Party (BJP) is neck and neck as there is no clear wave in favour of any party.
06:13 am: In the campaigning, Virbhadra Singh, popularly known as 'Raja Saab' as he was born into the erstwhile princely state of Bushahr, has no qualms about folding his hands and bowing his head before commoners when it comes to seeking votes.
06:12 am: At present, the Congress and the BJP have 35 and 28 MLAs respectively in the 68-member House besides four independents while one seat is vacant.
06:11 am: The 12-days high-voltage campaign in Himachal, which came to an end on November 7, saw over 450 rallies by star campaigners of the BJP and the Congress including Prime Minister Narendra Modi and BJP president Amit Shah who addressed seven and six rallies respectively.
06:10 am: Corruption was the main focus of the BJP campaign with the party training its guns at Chief Minister Virbhadra Singh, while the Congress hit out at the BJP over the issue of GST and demonetisation.
06:09 am: There is straight contest only in one constituency (Jhanduta) while the maximum number of 12 candidates is in fray in Dharamsala.
06:08 am: The BJP has fielded four Congressmen including former minister Anil Sharma and given ticket to on Independent from Chopal while Congress had fielded two independents from Paonta Sahib and Kangra.
06:07 am: Web-casting would be used in 2,307 polling stations in the state for live monitoring of polling activities in the state by ECI and polling would be held from 8.00 am to 5.00 pm, the CEO said.
06:06 am: VVPAT machines are being used for the first time in this Vidhan Sabha Election and 10 per cent of total EVMs and VVPATs have been kept in reserve.
06:05 am: This year, the Election Commission has also allowed the electors to cast their vote by producing any one document out of the 12 identity documents.
06:03 am: This time there is no third force and as Congress and the BJP have been returning to power alternately since 1985, the BJP is claiming that it is their turn to stage a comeback.