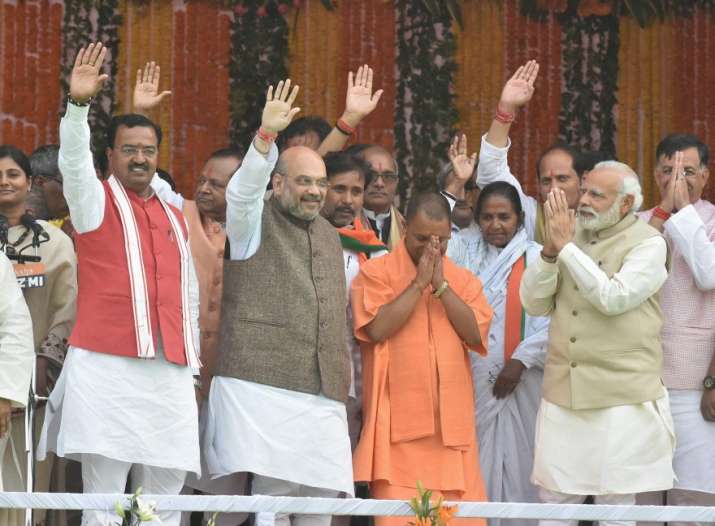 The BJP on Sunday released its list of 40 star campaigners, which include Prime Minister Narendra Modi, party chief Amit Shah and 10 Union ministers, for the upcoming Himachal Pradesh elections. 
The list, which was submitted to the Election Commission, also includes the names of four chief ministers -- Uttar Pradesh's Yogi Adityanath, Shivraj Singh Chouhan of Madhya Pradesh, Manohar Lal Khattar of Haryana and Uttarakhand's Trivendra Singh Rawat. 
Union ministers Rajnath Singh, Arun Jaitley, Nitin Gadkari, Sushma Swaraj, J P Nadda, Thawar Chand Gehlot, Smriti Irani, Uma Bharti, Vijay Sampla and V K Singh will be campaigning for the November 9 polls in the hill state. 
Prominent BJP leaders such as national organising secretaryRam Lal, national spokesman Sambit Patra and Himachal Pradesh BJP chief Satpal Singh Satti are also among the star campaigners of the party. 
Former Himachal Pradesh chief ministers P K Dhumal and Shanta Kumar are also on the list along with MPs Anurag Thakur, Virender Kashyap and Ram Swaroop Sharma. 
Delhi BJP chief Manoj Tiwari and prominent leaders Satpal Maharaj, Dr Nirmal Singh and Mangal Pandey are also among the star campaigners of the party. 
BJP leaders from the state -- Pawan Rana, Chander Mohan Thakur, Ram Singh, Praveen Sharma, Rashmidhar Sood, Sandeepani Bhardwaj, Ganesh Dutt, Uttam Chaudhary,Dr Sikender Kumar, Surat Negi, Mohammad Rajbali and Vishal Chauhan -- have made it to the list. 
Meanwhile, the BJP also lodged a complaint with the chief election commissioner that the ruling Congress in the state was allegedly misusing the official machinery. 
The BJP in its complaint also alleged that the official residence of the chief minister was being used as the Congress's party office even after declaration of polls and imposition of the model code of conduct.