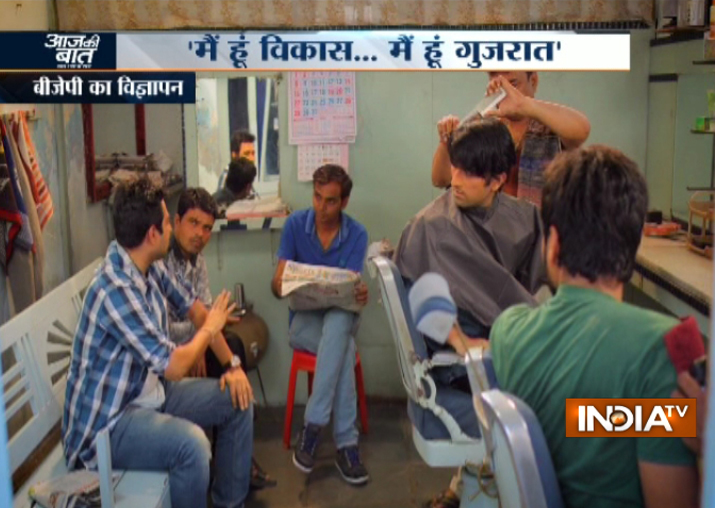 The Congress is trying its best to make development a big issue in Gujarat Assembly elections. Party's vice president Rahul Gandhi has repeatedly questioned the ruling BJP's claims on developing the state. 
Now the saffron party has come up with a new campaign ad to counter attacks by Congress party and its leaders. With this ad, the party also aims to respond to the "Vikas Pagal Ho Gaya Hai" campaign launched by its opponents on the social media.
The new ad prominently highlights Prime Minister Narendra Modi's key decisions since he took over the charge of the country in May 2014.
The four-minute long video – titled 'Main Hoon Vikas, Main Hoon Gujarat', has now gone viral on social media platforms. It has so far received more than 3,000 tweets and 7,000 likes. 
It talks about the Centre's big achievements including demonetisation, Start Up India, Jan Dhan Yojana and etc.
The video also cites how PM Modi and his team is working tirelessly to build a new India. 
The video also takes on dynastic politics. It names Sonia Gandhi-Rahul Gandhi, Mulayam Singh Yadav-Akhilesh Yadav and Lalu Yadav-Tejashwi Yadav. 
देखिए, क्या कहता है विकास - 'मैं हूँ विकास, मैं हूँ गुजरात' #ProudToBeGujarati #ProudToBeIndian pic.twitter.com/KVwUYxlitm

— BJP (@BJP4India) November 1, 2017
Gujarat will go to polls in two phases on December 9 and December14. Results of the 182 Assembly will be declared on December 18.
The ruling BJP is confident that it will return to power for 5th consecutive term. The opposition Congress, on the other hand, is leaving no stone unturned to ensure it bags maximum number of seats. 
The BJP has won every Assembly election in the state since 1995. Narendra Modi took over as the Chief Minister of Gujarat on 7 October 2001 and continued to rule the state till 22 May 2014 when he resigned after leading the BJP to historic win in 2014 parliamentary elections. 
In terms of strength in the Assembly, the BJP has been continually winning 115-127 seats in 182-member House since 1995. It won 121 seats in 1995, 117 seats in 1998, 127 seats in 2002, 117 seats in 207 and 115 seats in 2012 Assembly elections.
The Congress, on the other hand, has not crossed the figure of 61 in the state Assembly since 1995. The party won 45 seats in 1995, 53 seats in 1998, 51 seats in 2002, 59 seats in 2007 and 61 seats in 2012.