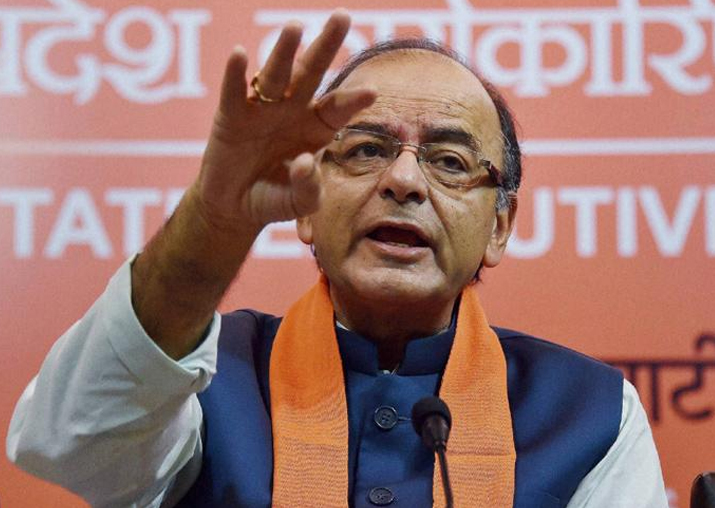 Union Finance Minister Arun Jaitley today slammed both the Congress and Patidar Anamat Andolan Samiti (PAAS) convener Hardik Patel over their reservation deal. 
Speaking to reporters, Jaitley said the club consisting of the Congress and Hardik Patel was one of 'mutual deception' as they were deceiving each other as well the voters.
"The Congress-Hardik club is one of mutual deception. The law of the land is very clear and that has been laid down by the Supreme Court. Last week, it was reaffirmed that the 50 per cent reservation cap cannot be breached. They (Hardik Patel and Congress) can continue to mutually deceive each other and the public by saying that they will devise a methodology of breaching the cap," he said.
He added that in elections, only those promises should be made to each other and the public that could be implemented, otherwise "you deceive your own constituents."
Meanwhile, Gujarat Deputy CM Nitin Patel lashed out at Hardik Patel for accepting the Congress formula on job quotas and supporting it in upcoming Assembly elections, calling him a "fool".
"Fools have given a formula and fools have accepted it. I have not seen a more foolish person than Hardik. He is young boy. He may have got some love from the community but they are going to perish soon," he said.
"They are like black stars who will extinguish. Many leaders like you (Hardik) have come and gone into oblivion. This is all temporary. In the past such leaders emerged during Nav Nirman agitation and other agitations. Now even their neighbours do not know about them. You will all vanish. The community will take revenge... They will hunt you and take revenge. Your name will be written in black letters in the history of the community and you won't be able to show your face," he thundered.
Earlier today, declaring his support to the Congress for the Gujarat Assembly elections, Hardik Patel said that the opposition party has accepted the demand of giving reservation to his community in a "special category". 
He said that the reservation formula given by the Congress for his community will be over and above the 50 per cent quota for the SC, ST and OBCs. 
Hardik said if the Congress comes to power, it will conduct a proper survey for providing reservation. The party will bring a Bill in the state Assembly and give reservations. 
Patidars constitute 16 per cent of the state population and play an important role in swinging the voters' mood.
The state will go to polls in two phases on December 9 and 14. Counting of votes will take place on December 18.