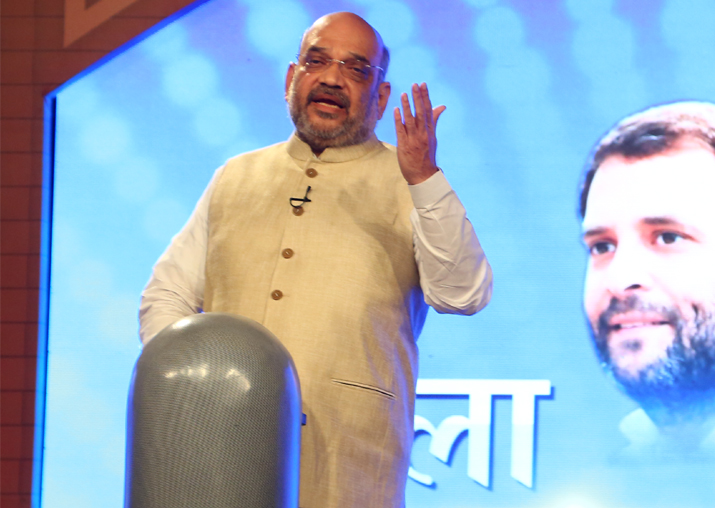 Bharatiya Janata Party (BJP) president Amit Shah today came down heavily on the Congress party for making fun of Prime Minister Narendra Modi over his tea-seller background.
Speaking at India TV's Chunav Manch conclave organised in Ahmedabad, Shah termed the advertisement 'very unfortunate' which the youth wing of Congress had posted on its twitter handle.
"The youth wing of the country's grand old party mocking Narendra Modi's past on social media is very unfortunate. Is it necessary for someone to be born in the Gandhi family to become Prime Minister? We are very proud that a man with poor background is country's Prime Minister," he said.
"This shows the mentality of the Congress leaders. We have also been in Opposition but have never insulted anyone like that," Amit Shah added.
The BJP president also accused the Congress spreading lies in Gujarat. He asked the people of Gujarat to visit the websites of state government to know the truth.
"I am assured that the people of Gujarat will not be misled by false claims being made by the Congress party, they are wise enough to bring appropriate govt to power," he said.
Shah reiterated the saffron party retain power in Gujarat.
"I am confident that the BJP will emerge victorious this time as well. The BJP will more than 150 seats," he said.
To a question related to Congress' accusation that Narmada river water is not reaching everyone, he said, "Rahul Gandhi claims that Gujarat has not developed after the BJP has come to power. I want to ask him who has completed the Narmada project, the bullet trains and many other agendas."
On GST, Shah said, "The Congress party should tell the people what they are opposing. At the GST meetings, their representatives actively take part."
"I am proud to say that our PM has worked really hard to help people overcome those hurdles. I assure that GST will prove to be the best economic reform in the months to come," he added.
"The Narendra Modi government is very sensitive and responsible, it is committed to ease the business doing norms," he opined. 
Shah further asserted that the GST has helped to check the inspector raj.
He also rubbished Congress' claims that the NDA government has waived off loans of industrialists. 
He dared Rahul Gandhi to release the list of industrialists whose loans were waived off.
"The BJP government headed by Narendra Modi formed has not waived off loan of anyone (industrialist). 
Shah said that Dalits under the BJP regime are safe. "Congress' leaders have no right to brand anyone as anti-Dalit. Dalits are safe in Gujarat."
On reservation deal between Congress and PAAS leader Hardik Patel, he said, "Patidar agitation for reservation was backed by the Congress. People of Gujarat are aware of everything."
"BJP can't make false or hollow promises," he added.
The BJP president even asked the Congress to put the draft of proposal to provide reservation exceeding 50 per cent in the public domain. "Constitutional experts should first debate on this."
He also took a jibe at Rahul Gandhi's visits to temple in Gujarat.
"I don't know whether his visits will yield results or not, but it is god that he is visiting temple," he said.
The polling for the two-phase elections in Gujarat, having total 182 seats, will take place on December 9 and 14 and votes will be counted on December 18. While 89 seats of Saurashtra and South Gujarat region are going to polls in the first phase, the remaining 93 seats in central and northern region will go for polls in the second phase.