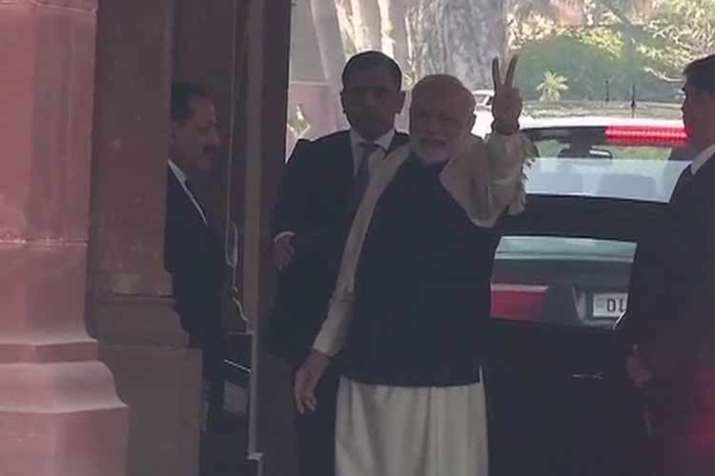 Prime Minister Narendra Modi on Monday flashed the victory sign as he entered Parliament with the BJP poised to win elections in Gujarat and Himachal Pradesh.
As Modi alighted from his car, he didn't speak but greeted the media with folded hands and then flashed the victory sign before entering the House.
The ruling BJP was on Monday set to retain power in Gujarat, with its candidates on the victory lap in 104 of the 182 seats as the Congress again settled for the second place but with an improved showing.
After surprisingly leading over the Bharatiya Janata Party at one point and sending the stock market crashing, the Congress began to trail to the BJP again. Election Commission officials said the Congress was expected to grab 75 seats.
The BJP won 115 seats and the Congress 61 in 2012.
BJP supporters began celebrating in Ahmedabad and Gandhinagar even though some of its leaders, including Deputy Chief Minister Nitin Patel (Mehsana), were trailing to the Congress as officials counted the millions of votes polled on December 9 and 14.
Chief Minister Vijay Rupani too trailed at one time in Rajkot West but managed to reverse the situation after a while and ultimately won, the officials said.
Dalit leader Jignesh Mevani, with Congress backing, was leading by 6,900 votes.
As the BJP crossed the half-way mark of 92, the BJP heaved a sigh of relief. But the trends were very different from the exit poll predictions of a sweeping win for the BJP.
BJP President Amit Shah had repeatedly claimed that his party would bag 150 seats.