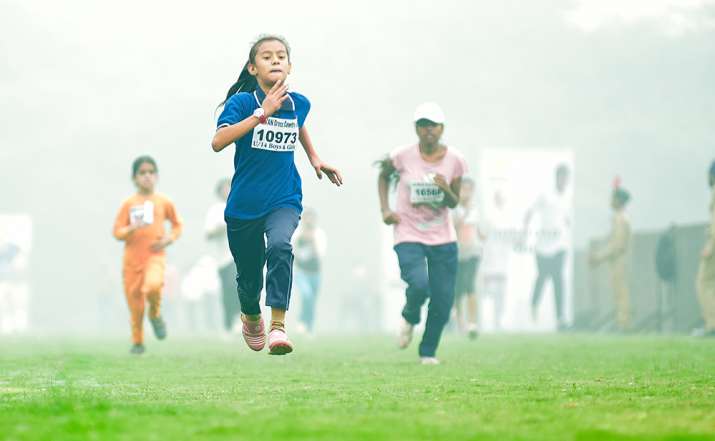 Salwan Marathon, continuing on its vision of creating a sporting legacy for the generation today, will host its 22nd edition on the  November 5, 2017 at Brar Square, Delhi Cantt. Salwan Marathon was started in 1995 by Inder Dutt Salwan, a member of the Salwan Education Trust.
This year promises to be more challenging for all the categories ( U/14 (4.5km), U/16 (6km) and U 18 (8km)Girls and Boys), will see a tougher route and with the increased number of students registering from the North- East, Madhya Pradesh, Himachal Pradesh, Uttar Pradesh and Rajasthan, which will  redefine the character of Delhi as a Sports city, so feel the organizers of the run.
Announcing the details of the run, Samrata Diwan, spokesperson, Salwan Marathon said, " It's all about courage, to go that extra mile in search for perfection and to bring laurels to their Institution. But what is amazing is that it's a tough competition amongst the rural v/s urban children, with the students from the rural background certainly having an upper edge as in the past 16 years or so, perhaps due to their living style, their struggle or maybe this is their chance to prove their mettle".
"Our objective is clear, to tap talent at grass roots level and encourage Competitive Sports in the city, promote clean sports through fair play and respect amongst each other, add value by conducting stringent measures against Doping, age fudging both by students and their mentors and use of multiple cameras to track the route each participant through chip technology", says Samrata." We strongly believe that Sport is all inclusive and a necessity for all students, with or without intellectual disabilities. We would like to integrate the Visually impaired and differently abled children with the mainstream students through the Inspirational power of running."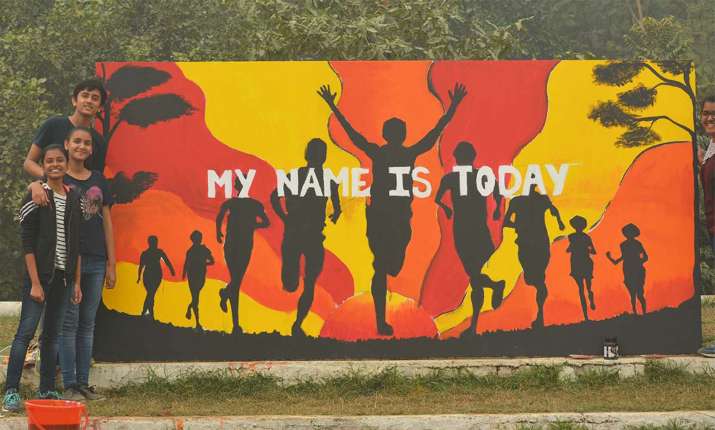 More than 4000 volunteers from the Athletic Federation of India, Delhi State Amateur Athletics Association and Physical instructors across India will ensure the safety and security of each participant  at the event which saw over 52000 students from over 1200 schools across India, including 2500 visually impaired children take part in the year 2016.
Exhilaring! When 52,000 children ignored all odds, run a marathon and 3 won in visually-challenged category in 2016
Amita Kumari, Sinki and Deepa won in the top three positions in the massive Salwan Marathon, which The girls emerged victorious in the 4.5 km marathon, in the visually-impaired category. The trio is from R.V.A.K Senior Secondary School, Vikaspuri.
"We'd practice everyday in the morning. No cheating," the winner Namita tells Catch. The first and second runners-up - Sinki and Deepa - chip in. "Yes, yes. We practice everyday. Sometime in the zero period, sometimes during assembly. We've been practicing for more than a month," they say.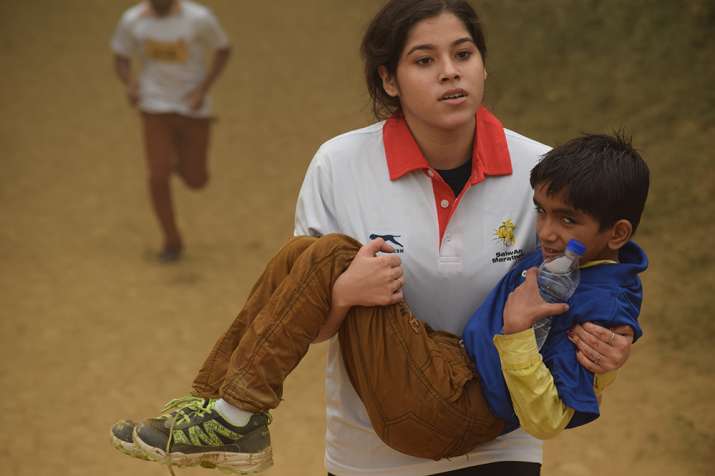 On Sunday morning, over 52,000 children gathered in smoggy Delhi's green cantonment to participate in the world's largest marathon of school students. About 2,800 visually impaired and differently-abled children participated in the special race. The marathon witnessed participation from various schools across India, including children from regions such as North-East, Gujarat, Himachal Pradesh, Uttar Pradesh, Rajasthan and Madhya Pradesh. Indian Olympians - boxer Shiva Thapa and national record holder in shotput Manpreet Kaur - also participated in the event.
Despite the smog, pollution and poor visibility, the sheer number of children walking and running on the ground was mind-boggling. Last year, the 21st edition of the event, witnessed the participation of 3,000-odd volunteers, more than 49,000 children and 2,800 special children.
The marathon has eight different categories - visually impaired, differently-abled (4.5 km), under 14 girls and boys (4.5 km), under 16 girls and boys (6 km) and under 18 girls and boys (8 km) races.
"As part of the initiative to ensure an even playing field for all participants, the organisers put in place stringent mechanisms to root out any possibility of doping and fudging by participating school children. Salwan Marathon, with SRL Ltd., conducted dope and age verification tests for the top 20 winners in each category. Along with this, multiple cameras and GPS tracking systems were put in place to track the distance, location and time taken to run the course including checking if the runner has completed the entire route. As a result of these checks in place, this year no student was found indulging in any malpractice like doping and age fudging," stated the organisers.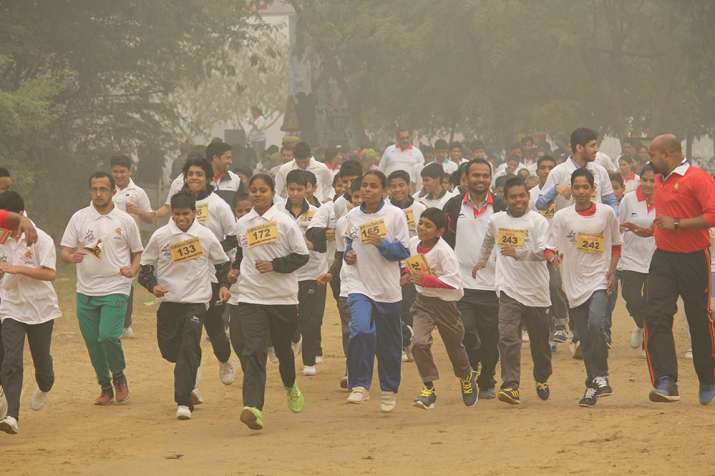 The sponsorship of the event comes from various corners. "But we pump it back into the society," says Samrata Diwan. "We've adopted visually impaired children. We've also opened two schools in Bihar and Patna," she adds.
"Salwan Marathon's mission is to inculcate the spirit of sports among children and to showcase what sports can do beyond sports. It has really been wonderful to see the kind of response that the Salwan Marathon has seen year after year. In the near future, we want to take this marathon to other cities, especially non-metros. In the last 21 years and today as well, the winners in majority of the races have been all from the rural belt, so we want to take the marathon there," Diwan further said.